The mighty burger. A firm favourite of countless food enthusiasts across the world. A refuge from the cold and oppressive weather where one bite can stave off an icy chill and bring comfort to the soul. Yet whilst colossal burgers of monstrous proportions are becoming more and more popular in restaurants and pubs across the UK, size does not always ensure quality and often it's hard to know just where to go to get your ever-essential burger fix.
With this in mind, we went on a journey across the city in search of the perfect burger. So grab your bib and prepare yourselves – here's our Top 5 Burger Havens in Birmingham.
DIGBETH DINING CLUB
Hailed and celebrated as one of the most innovative foodie havens to be found in the UK (and deserved recipient of 'Best Street Food Event in the UK' 2013 and 2014 at The British Street Food Awards), Digbeth Dining Club is all about showcasing the very best in street-food from across the Midlands and is definitely the place to go should you be looking to sample some of the most inspiring and mouth-watering street-food dishes to ever grace your lips. Whilst a number of the vendors specialise in burgers, we picked out just two who really shine the spotlight on the art of building a burger masterpiece.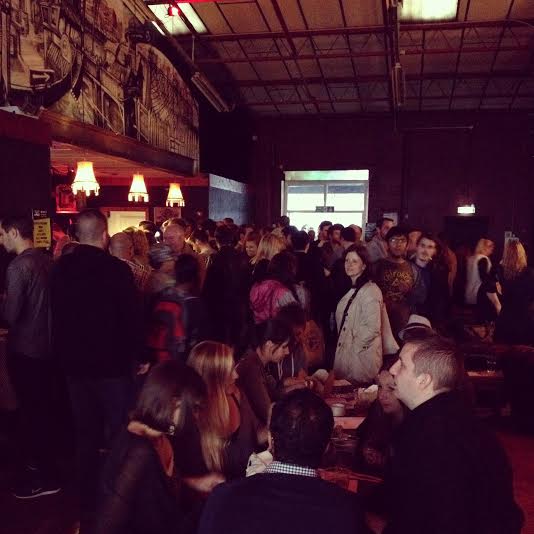 Original Patty Men – Winners of 'Best Burger in the UK 2014' at The British Street Food Awards, Birmingham locals, Original Patty Men, are all about exploring new and exciting ways in which to thrill your tastebuds through the medium of beef and buns. Serving up unbelievably tasty 5-week dry aged Longhorn beef patties topped with anything from maple bacon and cheese to real ale caramelised onion marmalade – these burgers truly are the real deal and come served medium-rare so as to lock in all those delicious burger juices, oh yeah!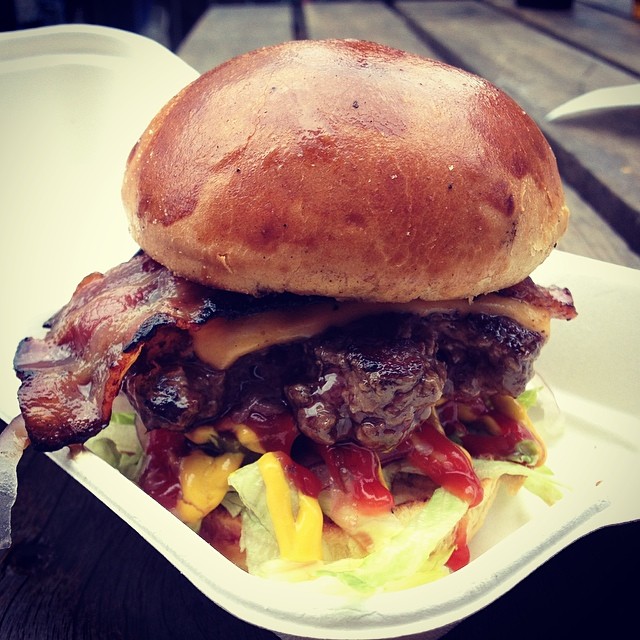 The Meat Shack – There's a flip-side to that burger, a fierce rivalry which creates no end of debate between passionate Brummies and Instagram-crazed food enthusiasts when it comes to the ever important question of 'just who makes the best street-food burger in Birmingham?'. Indeed, rumours were abound that Tom Cullen (editor of I CHOOSE Birmingham) was almost forced to go into witness protection when he had the audacity to merely mention his preference of Original Patty Men over The Meat Shack. However, this is not a preference echoed by all across Birmingham – and it's easy to see why.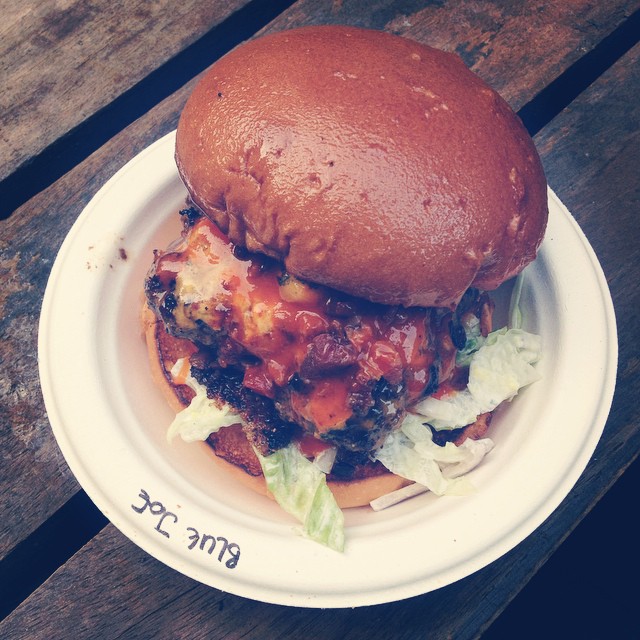 Serving up towering burgers consisting of 28-day dry aged Herefordshire beef patties slathered in blue cheese, candied bacon and anything that will fit between two buns (served pink to trap in all the juicy goodness), the innovative creations for which The Meat Shack have become renowned across Birmingham are so good they make even the most hardened burger aficionado and veteran of the street-food scene weak at the knees. The rich tastes and creative ingredients definitely set The Meat Shack apart as one of the best eats in Birmingham.
Should you wish to have your say in this eternal debate between these two street-food giants, both The Meat Shack and Original Patty Men will be creating their burger masterpieces down at Spot*light in Digbeth when Digbeth Dining Club once again opens its doors on 6th February. – we literally cannot wait!
THE CHURCH
The Church, the altar to culinary decadence where soul food reigns supreme and whisky is a way of life. Home to the Soul Food Project and specialising in authentic Deep South, Louisiana home cooking, The Church has made somewhat of a name for itself as a top quality pub and was even named '2nd Best New Pub in the UK' by Shortlist Magazine (although they will forever be number 1 in our books!). Serving up an array of delicious slow-cooked ribs slathered in BBQ, hot pots, jambalayas and traditional Deep South treats it'd be easy to overlook their burgers with such talent on the menu, but we're here to let you in on a little secret – their burgers are awesome!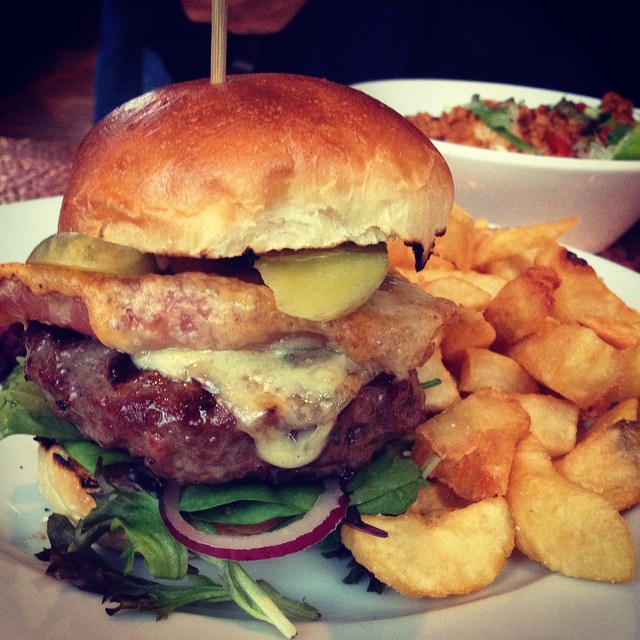 Whilst you may get side-tracked by the sound of the jerk chicken and bacon 'Rocksteady' or the blue cheese infused 'The Black and Blue', we'd like to quietly draw your attention to 'The King' (and by quietly we mean look at that huge picture of the burger above!). Two buns housing a 6oz patty, bacon, Monterey Jack cheese and homemade 'soul sauce' (yes, you heard us – soul sauce), The King is simply magnificent and an ode to comfort food at its finest. Served with chips and slaw, you may find yourself lapsing into a food-induced coma after tackling this monster eat but never fear, there's plenty of room in the back of the pub to go take a nap before round two!
THE WAREHOUSE CAFE
Now, we all know that when it comes the ever important topic of where to find the best burgers in the city, as often as not vegetarians are completely overlooked as a red mist of meat descends upon the overly eager carnivores amongst us and we simply list meat, meat, meat. However, while it may come as a shock to many, we can in fact now announce that vegetarians do also enjoy eating burgers. At the forefront of converting the delusional perceptions on what vegetarian food is all about are The Warehouse Cafe whose refreshing take on veggie cuisine has resulted in the restaurant being named as one of the top restaurants of any kind to eat in Birmingham (ranked 3rd in the city on TripAdvisor and highly rated on the fantastic, Birmingham-based Yelp Birmingham).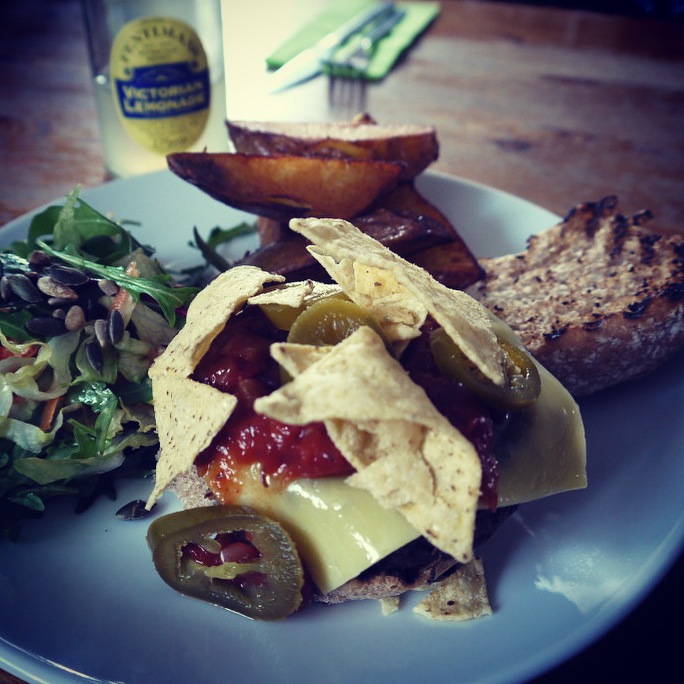 Flipping up a diverse (and belly rumbling) array of vegetarian and vegan burgers, with patties consisting of spinach, beans, wheat, herbs and nuts, topped with anything from olive tapenade, feta cheese, grilled pineapple and home-made nachos – not only are these burgers unbelievably tasty (so much so that even the most stalwart carnivores consider converting to a life of fruit and veg after only one bite) but they also have the added benefit of being healthier than a regular burger. Eating at The Warehouse Cafe is a truly eye-opening experience and one we definitely recommend to all!
THE LORD CLIFDEN
The Jewellery Quarter is seeing a resurgence of late, with many young professionals opting to live in and around this up-and-coming district of central Birmingham and a wealth of new independent businesses opening their doors to an enthusiastic crowd of welcoming Brummies. That being said, there are also those independents who have stood the test of time, offering the denizens of the Jewellery Quarter and beyond somewhere intriguing and unique to while away their idle hours. One such establishment is none other than the infamous and award-winning The Lord Clifden, wherein exclusive European beers, cask ales, top-quality pub food and a ping-pong table do dwell.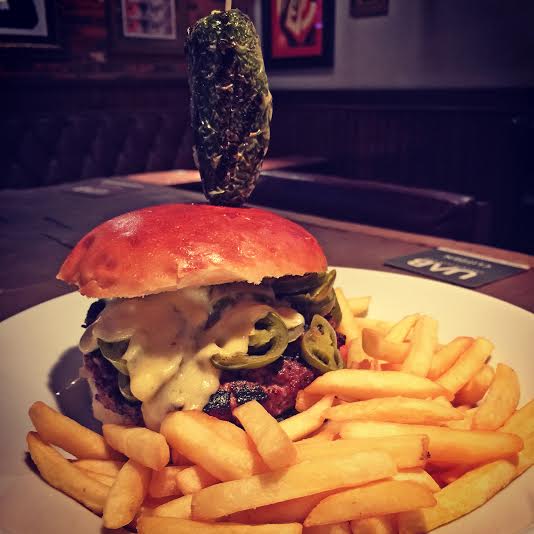 Now, as for those burgers – The Lord Clifden serves up an mouth-watering array of colossal 10oz burgers eagerly lashed with a healthy serving of relish, salsa, bacon, chilli and cheese. In addition to their already superb burger selection, there's also the option to choose the devilishly mysterious 'Burger of the Week'. This can result in all kinds of burger-related mayhem, not in the least having a giant chilli pepper harpooned to your bun and emerging from The Lord Clifden hours later with all manner of burger stains on your top (we've all been there!). Simply put, their burgers are ace – go try them.
THE PLOUGH
With a veritable horde of pubs dominating a localised area in the suburb of Harborne, setting yourself apart from the rest can always be somewhat of a challenge. Well known for their incredible Sunday roasts, serving up the breakfast of champions and being home to one of the best beer gardens to be found in the city, over the years The Plough has truly been flying the flag for independent businesses in Harborne – oh, and they grill up a darn tasty burger too!
What could be better than whiling away sunny summer afternoons with your friends in the beer garden, or getting all snug and cosy to combat the icy chill on a cold winter's day – well, doing all of that with a burger in hand is the answer. Whether you're hankering for pulled cajun chicken, jalapeños and melted cheese, or you're motto in life is 'the more beef the better' and you opt for the Sloppy Joe with additional beef and mysterious Plough Sauce topping your patty – The Plough certainly serves up some serious burgers and they are definitely one to try for both burger aficionados and new-comers alike.
WHILST WE'RE TALKING ABOUT BURGERS…
A fond mention must also be given to Chillidogdogs (operating out of The Prince of Wales' infamous beer garden), Jewellery Quarter's infamous The Rose Villa Tavern, The Dark Horse in Moseley and The New Inn in Harborne who all serve up some seriously delicious burgers alongside an array of alternatively fiendish foodie treats.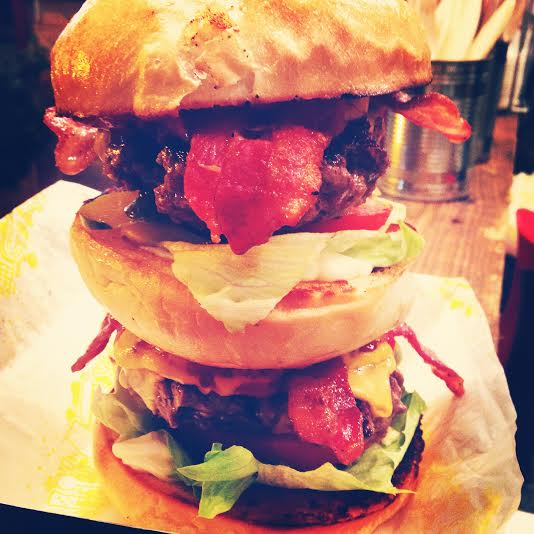 So there we have it folks, our Top 5 Burger Havens in Birmingham – we hope you found the article both instructive and mouth-watering. Now all that's left is for you to get out there and satisfy your cravings on some of the tastiest comfort food in the city.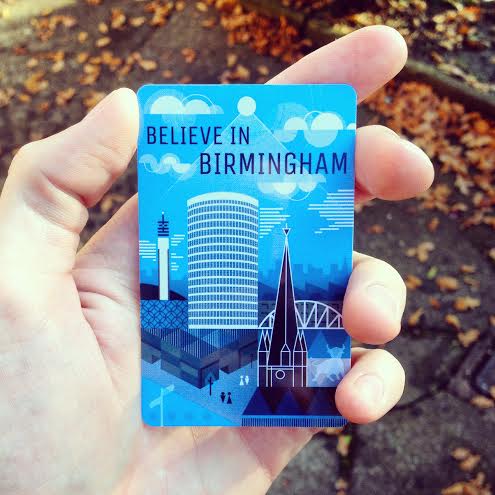 Should you wish to learn more about the fantastic discounts and deals available at over 75 of the best independent cafes, bars, restaurants and shops in Birmingham (including the likes of: The Electric cinema, Bodega Bar Y Cantina, The Plough, Adam's, The Lord Clifden, The Jekyll And Hyde, Digbeth Dining Club, The Church, Cherry Reds, The Prince of Wales and many more!), click here.
Download the IB app for free on Apple and Android – just type 'Independent Birmingham' into your app store and you're set to go!