We still drink way too much. Like waaaay too much.
Recently we published a critically-acclaimed article entitled 'The Ultimate Jewellery Quarter Bar Crawl', where we led you on a daring trail of drink and more drink, hopping from one independent bar to the next in Birmingham's delightful JQ. We should have won a Pulitzer for that. No joke. But the MAN doesn't just hand out prizes to any old publication, and probably not to ones where we come up with more and more inventive ways for you to drink. So we accept that and it's our cross to bear. Saying that, we've come up with yet another inventive way for you to drink alcohol.
Here's our nifty guide to the Ultimate City Centre Bar Crawl.
Bottoms up!
1. Tilt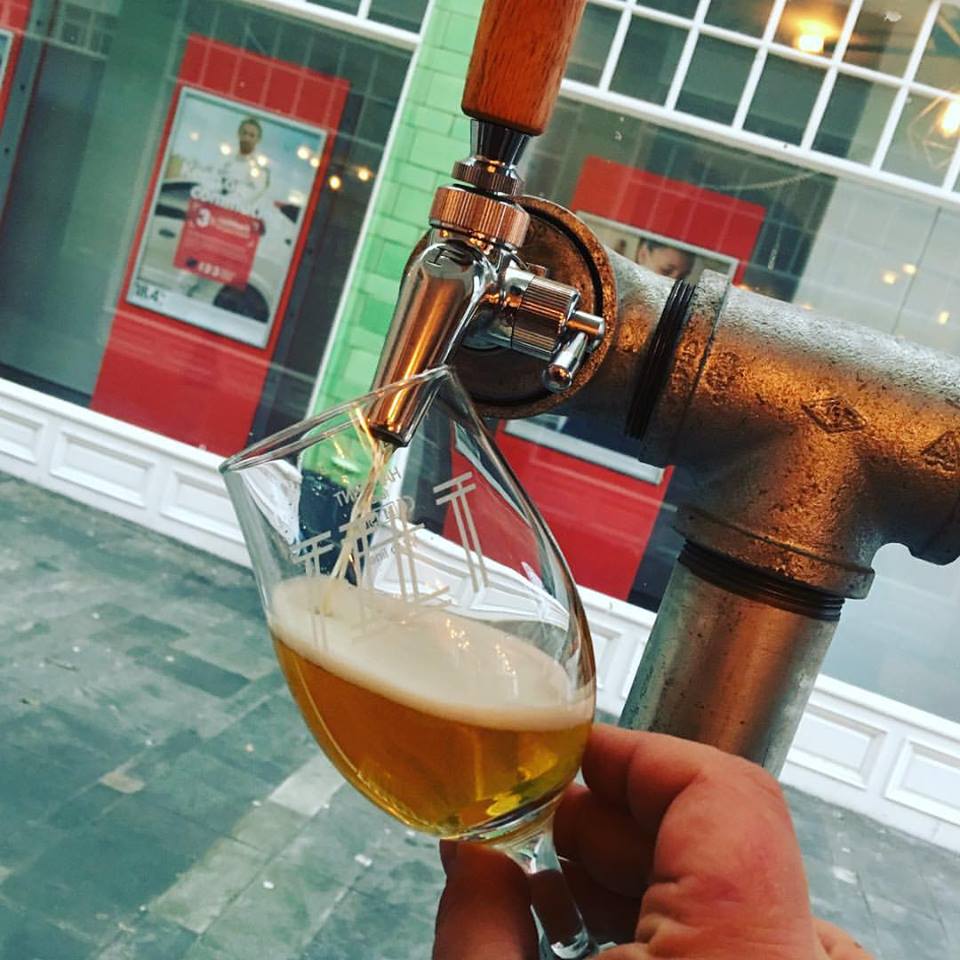 We start our noble quest in a place where craft beer is king and pinballin' is the answer to all of life's problems. There are a number of funky beers on tap (these revolve all the time to keep things fresh and exciting) and an even larger number of even funkier beers by the bottle and the can.
Drink up, shoot a little pinball and prepare yourself for an adventure – we've got places to go, and drinks to drink. Onwards!
IB deal: 15% off coffees, teas and cakes.
Address: 2 City Arcade, B2 4TX
2. Loki Wine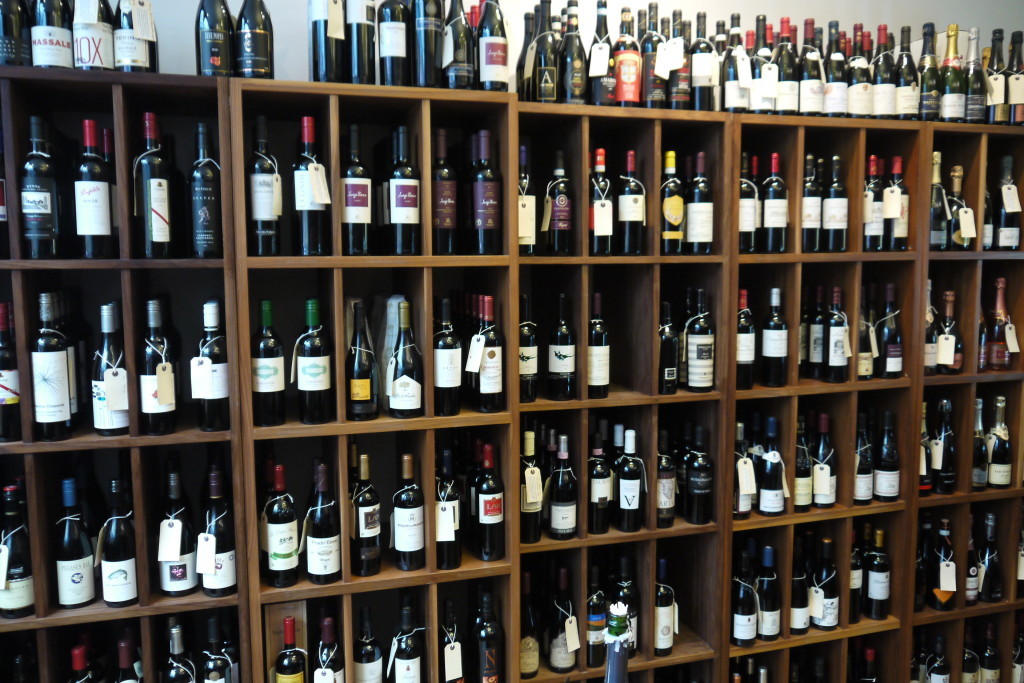 Next up, it's wine time. Loki Wine time. This is perhaps the most sophisticated part of the evening, so that's why we planned it for near the start – so you're not too loud and drinky drunk for this small wine bar to handle.
How to Loki: enter and demand wine. Choose your wine from the cool pressurised wine machine thing (that's a technical term) and then drink it by the glass. To increase your Loki experience by a factor of 15, grab a bottle of wine off the shelf, take it upstairs and order a cheese board for you and your friends to share while quaffing a damn fine wine. It's classy and you get to line your stomach with all of the cheese.
IB deal: 10% off your tasting card top-up (Monday – Thursday).
Address: Great Western Arcade, B2 5HU
3. The Jekyll and Hyde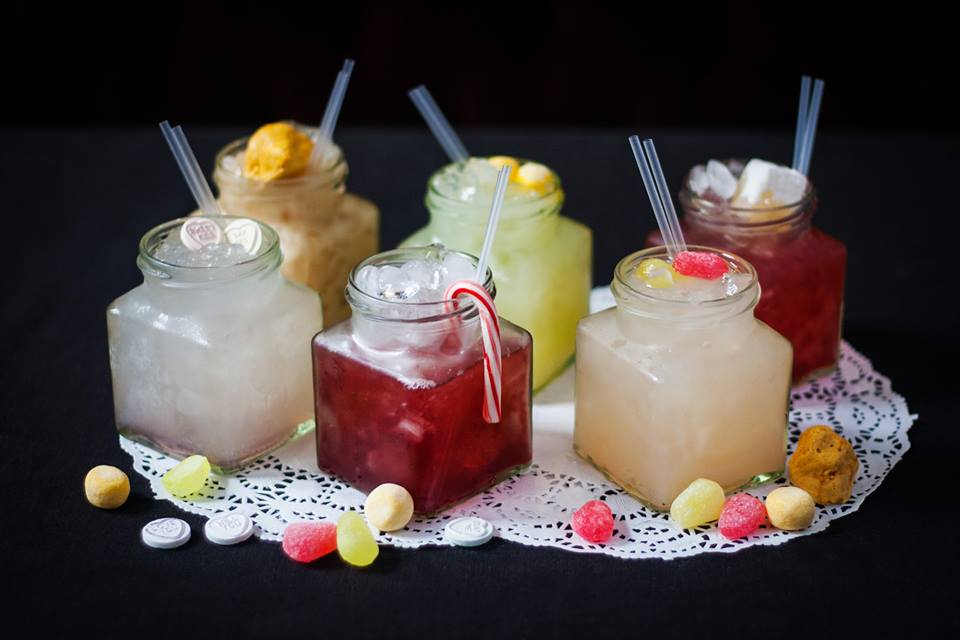 Sophistication got taken out behind the woodshed and put down the moment you walked through the doors to The Jekyll and Hyde, now gin-based shenanigans are the order of the day (oh, and if you got our True Detective reference in that sentence then you've obviously not had enough to drink yet…). Mr Hyde's bar is the place to be, and gin is what you'll drink. If you're an amateur you'll order a G&T, if you're a legend you'll order a gin cocktail that comes in a retro sweetie jar and is adorned with confectionary. We're not telling you how to live your life, but do the latter. Trust us.
Drink up, then move on. We've places to go, drinks to drink.
IB deal: 20% off food (Monday – Thursday).
Address: 28 Steelhouse Lane, B4 6BJ
4. Bar Opus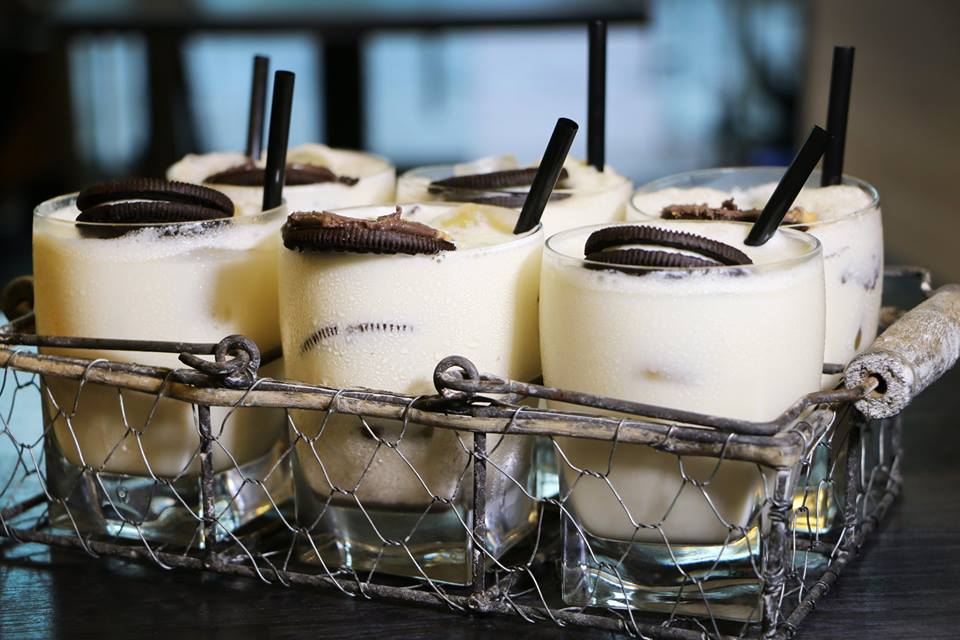 Now we hit Colmore Row where the drinks come thick and fast. Not literally thick, that'd be disgusting. Unless they're a milkshake, in which case cool. Cool.
First up of the Colmore Club is Bar Opus. Enter, head to the bar and brazenly order a basket of 6 sharing cocktails. If you're with friends, you drink them all to yourself. If you're not with friends and you're some sort of legend taking on this challenge alone, then you drink them all to yourself anyway.
Stop a moment to Instagram your highly-photogenic collection of cocktails, let all the haters know you're doing this whole 'Birmingham' thing the right way and exit Bar Opus. We've got work to do.
IB deal: 10% off food (Monday – Friday) OR a Free Bloody Mary or Bleary-Eyed Mimosa with every Breakfast/Brunch purchased on Saturdays.
Address: One Snowhill, B4 6GH
5. Ginger's Bar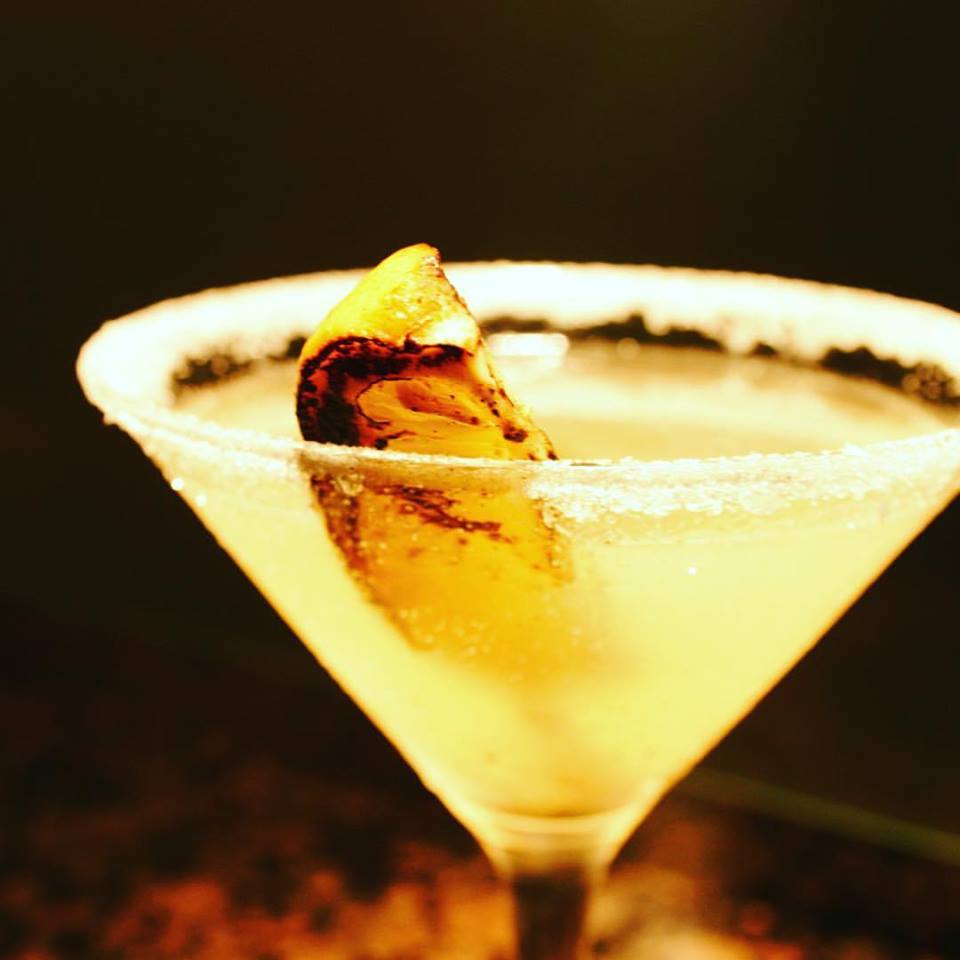 Next up on the Colmore stretch of the bar crawl is a bar that's not on Colmore Row, not that the last one technically was either. We're rogues and the rules mean nothing to us. So, Ginger's Bar it is then.
A bar attached to Purnell's Bistro, if we have to explain who Glynn Purnell is to you at this point then you're probably on the wrong website. He's a legend, and his bar is damn ace too. Delicious cocktails are the name of the game, and we recommend you grab yourself a scorched lemon Martini. It looks cool and tastes darn good. Drink it all, suck the lemon, pull a 'lemon-sucking face' and then walk out as though this is just another normal day in your life. Legendary status: 100.
IB deal: 20% off food (Tuesday – Thursday) OR a complimentary glass of Prosecco (Friday – Monday) when you purchase a main meal.
Address: 11 Newhall Street, B3 3NY
6. The Bureau Bar and Kitchen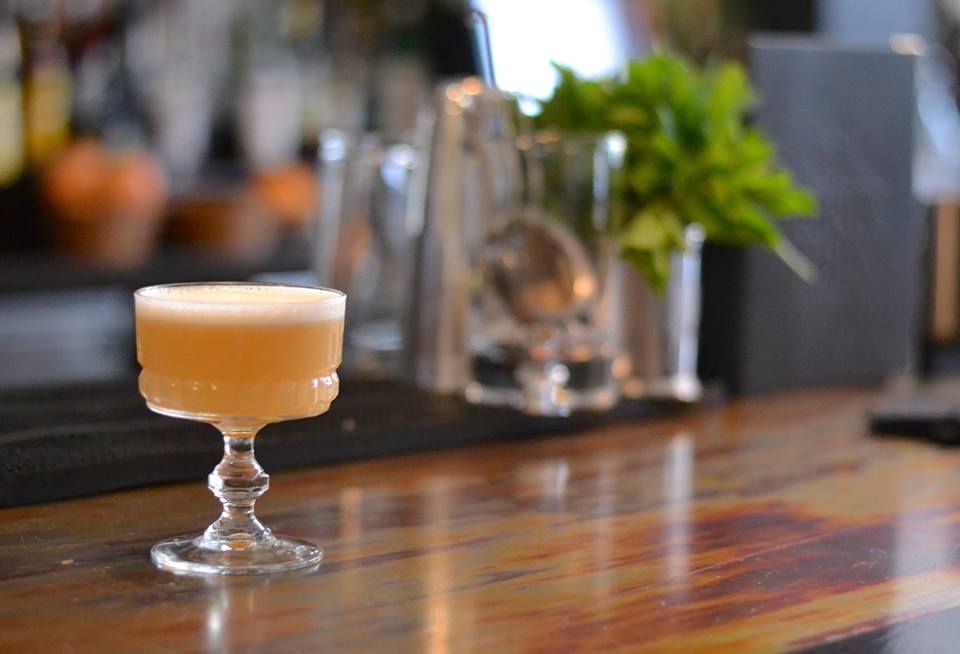 This one actually is on Colmore Row, and so is the next because it's practically next door. But we're talking about The Bureau Bar and Kitchen folks. The Bureau.
If the rooftop gin terrace is open when you're reading this article, you already know your next move: order a cocktail from the rather extensive cocktail menu and then head upstairs for some evening summer sunshine and good times. It's a bold strategy, and a winning one. If the rooftop gin terrace is closed, ignore all that talk of sunshine and comes to terms with the fact that it's winter and you'll never see the sunshine again. A drink will help. Head to the bar, order your poison of choice and chug it down. Exit, stumble a few paces to your right and enter the next watering hole.
IB deal: 10% off food.
Address: 110 Colmore Row, B3 3AG
7. Chung Ying Central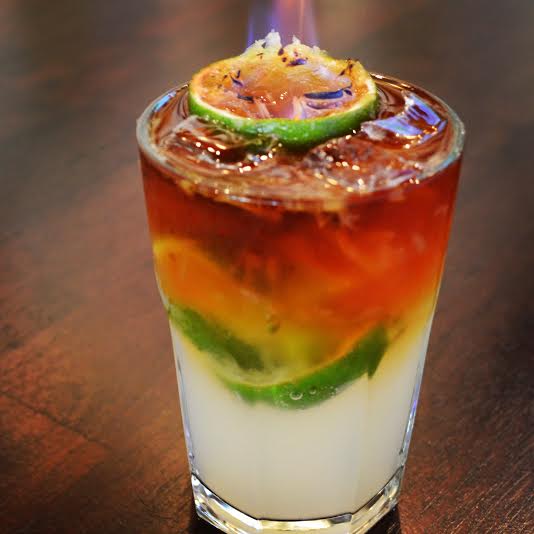 The Zodiac isn't just some star sign nonsense, it's how to drink your drinks. Enter Chung Ying Central and don't take no for an answer – you want Dim Sum and cocktails. Dim Sum because by this point you're probably remarkably peckish and these are small plates that'll fill you, but not push you over the edge. Cocktails because, well, you like drinking them. So you've got the platter that matters, a table full of Dim Sum (we recommend spring rolls and char sui buns, but don't mind us – order whatever you want), now it's time to feast. And drink.
To be honest, pretty much every single bar/pub on this rather awesome ultimate city centre bar crawl will have some nibbles or small plates to line your stomach with, so feel free to choose any of the ace independents on this list for your belly-filling needs. We just recommended Dim Sum because we love Dim Sum. Ok?
Drink up, eat up, time to move on.
IB deal: 10% off the bill.
Address: 126 Colmore Row, B3 3AP
8. Nosh and Quaff
Once again stumble a few paces to your right and you'll find yourself entering Nosh and Quaff. First up, that smell is going to hit you. Burgers, lobsters, ribs, wings, CHIPS! Stay strong, we're on a bar crawl here, not some crazy pig out (but kudos if you are on a crazy pig out, because we're all about that).
You'll want to head upstairs to the main bar area, with a decent view of Victoria Square and a range of craft beer, cocktails and wine on which to quench your insatiable thirst. Controversially, but not at all controversial, we recommend one of the craft beers. The next few stops on our bar crawl are dominated by beer, but what the heck – it's good to get a head start, right?
Quaff beer, dream of chicken wings and hotdogs and move on to the next stop on your ultimate city centre bar crawl.
IB deal: 10% off the bill.
Address: 130 Colmore Row, B3 3AP
9. The Post Office Vaults (Optional Stop)
This is not optional. We said it was, due to the crazy length of this noble adventure – but really it isn't.
An underground pub with so many bottles of beer that all that you can do is point at the one with the brightest label and pray to the beer gods that it's one you like. We call it a lucky dip. Not really, we just made that up; but we're hoping it catches on.
Drink your beer and try not to act as though you're not a regular and don't really have a clue what's going on and certainly hide that parcel you thought you'd post halfway through the bar crawl – it's not that kind of Post Office dammit! Once your beer is empty, give a tip of the hat to the bartender and find your way out. Next stop, more beer!
Address: 84 New Street, B2 4BA
10. Purecraft Bar and Kitchen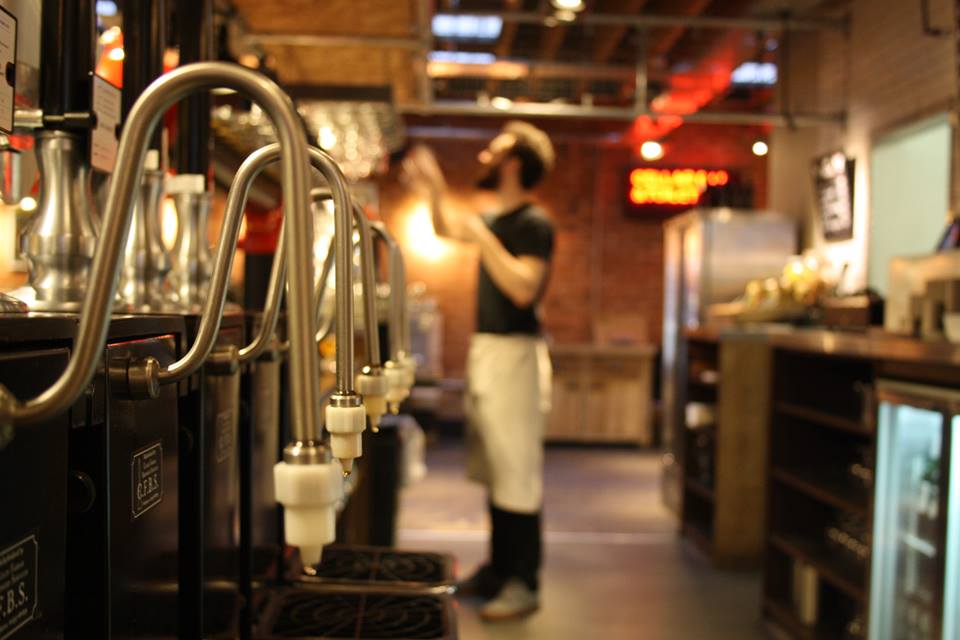 If ever there was a haven for beer lovers in Birmingham, Purecraft Bar and Kitchen is it. There are over 100 beers in this (rather brilliant) pub, and pub grub to go with it. Rumour is that their scotch egg is THE BEST scotch egg in the city. But this is a hotly contested topic and we don't want to start a pork-coated egg war, it could get bloody.
Head to the bar, squint at the menu and then say 'I'll have a pint of what he's having'. If there's no one stood next to you, then you're on your own. Both figuratively and literally. Anyway, enjoy your chosen pint in the good company of other beer connoisseurs and mentally prepare yourself for the final leg of our epic journey. Our ode to Birmingham's independent bars and pubs. Our noble quest to quaff alcohol and partake in an average-to-below averagely fun bar crawl.
IB deal: 10% off flights of beer OR free bottle of the 'beer of the week' when you purchase a main meal on a Sunday.
Address: 30 Waterloo Street, B2 5TJ
11. The Wellington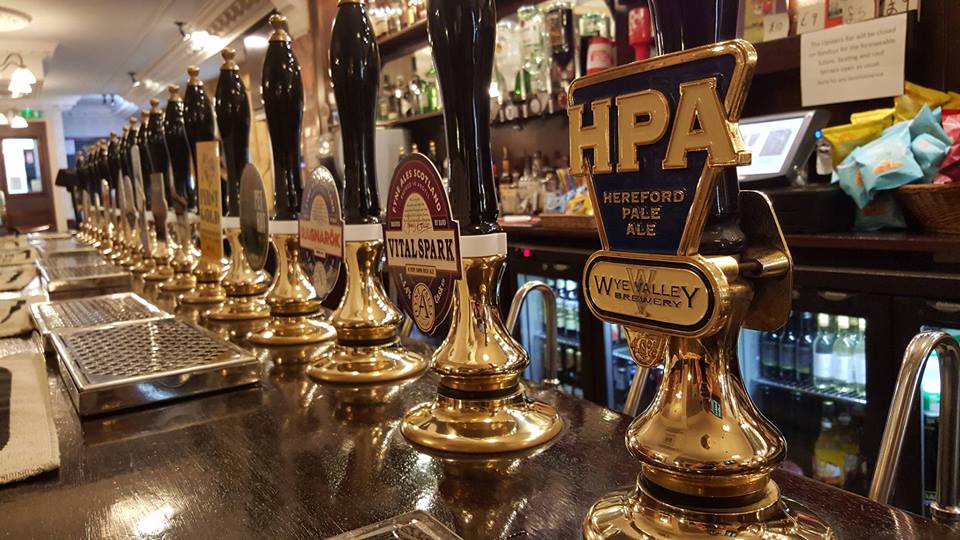 If you're heading to The Wellington (or The Welly if you're a regular) on cheese night then chances are you're probably going to end the night there. You'll drink beer (there is so much choice, so, so much) and eat every single piece of cheese you can get your hands on and then quietly slip into a food- induced coma. We urge you to stay away from the cheese, or at least just go back on a night when you're not roaming from bar to bar trying to complete some (quite frankly) insane challenge set by a man who writes articles in his dressing gown and talks to his dog.
The Welly has a cool (dare we say, hidden?) beer garden out back, and is a great spot for beer in the city. Drink your drink, give yourself a pat on the back for getting this far and mentally prepare for the last leg. Just three more bars to go – until our 'hidden ending' which has like 4 or 5 more bars, so really you've quite a few yet to go…
Better get on with it!
Address: 37 Bennetts Hill, B2 5SN
12. Bodega Bar y Cantina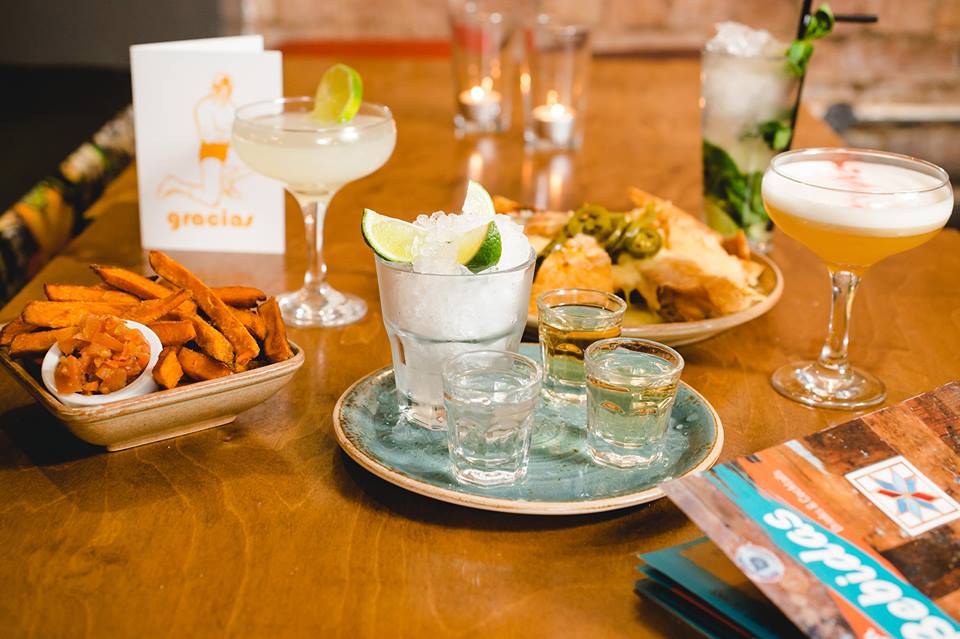 We decided to give you a break from beer. It's nice and all, but damn it's filling. Cocktails are the way forward in Bodega. Head downstairs (past restaurant-goers who are totally unaware of just how awesome you are) to the Sugarloaf Bar. At this stage, it might be good just to order a shot of tequila or rum. But then again, they shake and stir up some pretty nice cocktails so maybe you just order one of them and get on with it. With tunes blaring and a cocktail in hand, you might want to boogie a little. We can allow that. But only a little boogie, you've still got work to do.
Once you've shaken that thang and found your way out of the underground bar, it's over the road with you to The Sun on the Hill.
IB deal: 20% off food, 3pm-6pm (Monday-Thursday) and all day Sunday.
Address: 12 Bennetts Hill, B2 5RS
13. The Sun On The Hill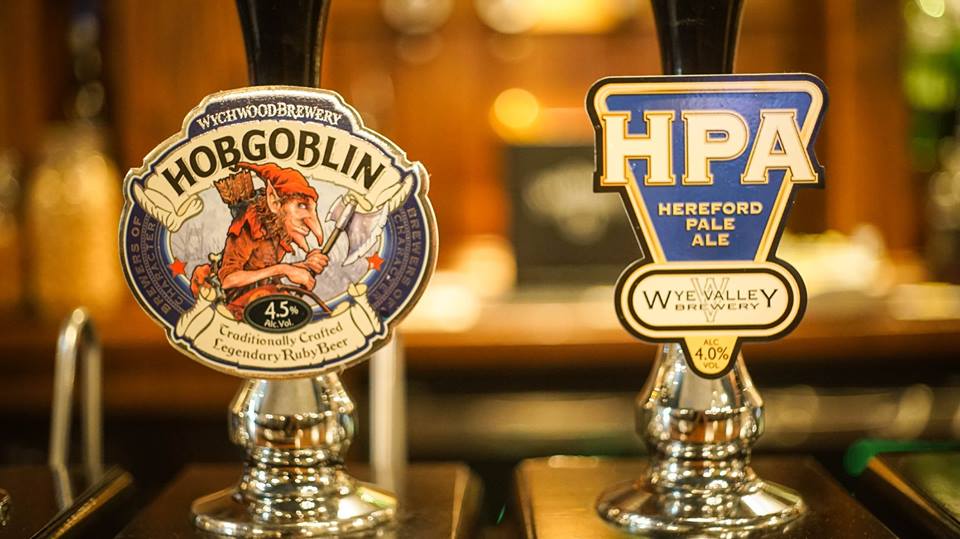 Pub? Ok, pub.
The Sun on the Hill has been a stalwart of Bennett's Hill for longer than we can remember. The rules are simple, you go in, drink beer or (if you're some kind of madman, or a university student) a Jaegerbomb, and hang out with the locals. Simples. It's a friendly crowd in there and there's beer aplenty for all. Chug your drink and maybe raise a toast to IB for sending you on this noble quest.
Onward!
IB deal: 25% off food.
Address: 23 Bennetts Hill, B2 5QP
14. Buffalo And Rye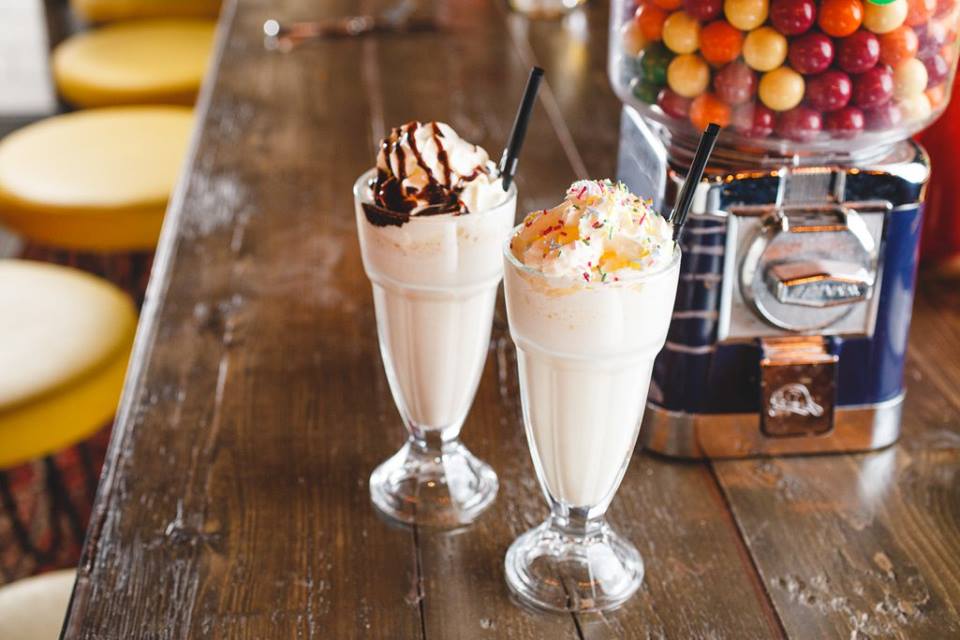 Last stop. You've made it this far and now the final choice is between a hard-hitting nightcap or a fun and boozy milkshake. We're going with milkshake because we just love milkshakes. If you're into the hard stuff though, a Negroni or Old Fashioned would be the way to go. But we're into milkshakes. Go with vanilla and then add some spiced rum to it, you be thanking us for the great tip later and if anyone gives you a strange look for slurping on a shake then you just stare right back at them because they aren't in the know.
Buffalo and Rye just also happen to serve up a rather tasty burger, so this could be the perfect opportunity to get your grub on in style.
IB deal: 15% off the bill (Sunday – Thursday).
Address: 11 Bennetts Hill, B2 5RS
And that's the end of our Ultimate City Centre Bar Crawl folks. Time to pack up and head home. Unless, of course, you choose to level up and take on our Ultimate City Centre Bar Crawl Hidden Ending For Heroes And Legends. Which, of course, being a legend, you will.
Hidden Ending
Here we go again!
15. Cherry Reds
So you've stumbled down to John Bright Street, following the sound of music and revelry. What next? You head to Cherry Reds, of course! Retro vintage vibes hit you right away, as you shimmy around the bodies to the bar and see a fridge full of beer bottles with outlandish labels. Of course, knowing your craft beer, you pick the one with the best label and they even pour it into a glass for you – because you're sophisticated and not some bottle-swigging heathen. To mix things up a bit, you might even choose yourself a nice cider on tap (you have had rather a lot of beer already…) but that's completely up to you as those beer bottle labels can be alluring and we know how much you love the taste of that sweet ambrosial nectar.
Find your way upstairs and admire the views of John Bright Street and the huge chandelier hanging from the ceiling. Mostly the chandelier, it's massive…
IB deal: Free drink when you purchase a main meal.
Address: 88-90 John Bright Street, B1 1BN
16. The Victoria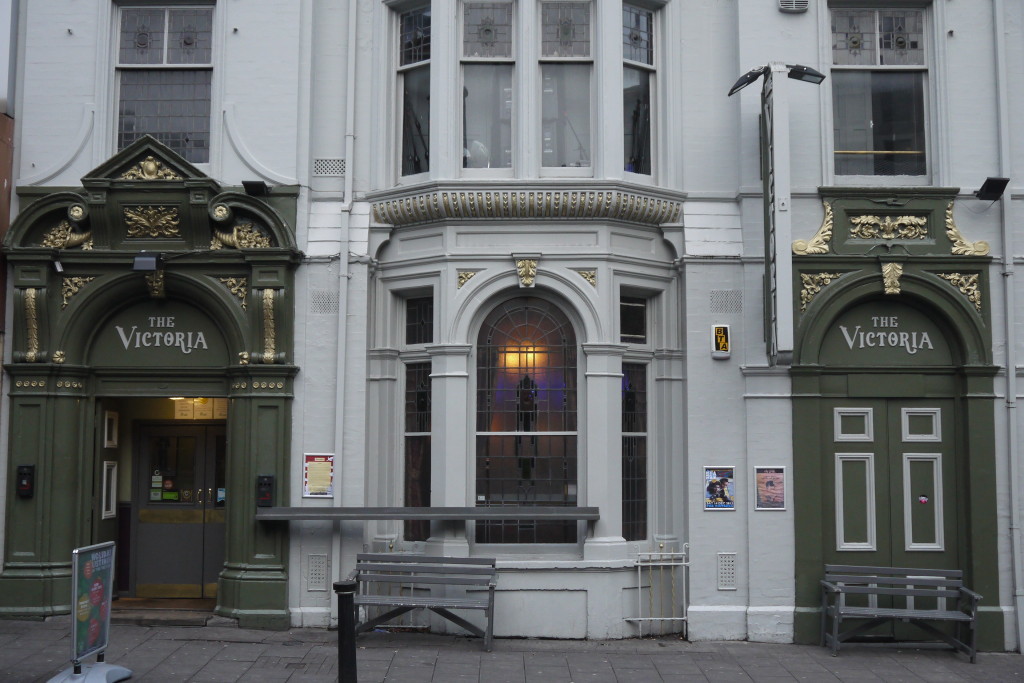 A quirky pub with a quirky edge, The Victoria is legendary in Birmingham and for good reason. When the drinks are a-flowing (and they're always a-flowing at this pub), The Victoria is a bustling hotspot for regulars and eager supporters of local alike – and their burgers and pizzas are pretty ace too. Just saying.
Now, this is something cool and different. The Victoria serve 'Boilermakers', which, to those of you who aren't in the know, is a beer followed by a whisky chaser. Technically it's two drinks, but because it's marvellous we'll let you get away with it. You sneaky devils. Down the hatch and on to the next one.
IB deal: 20% off food.
Address: 48 John Bright Street, B1 1BN
17. Bourne and Co.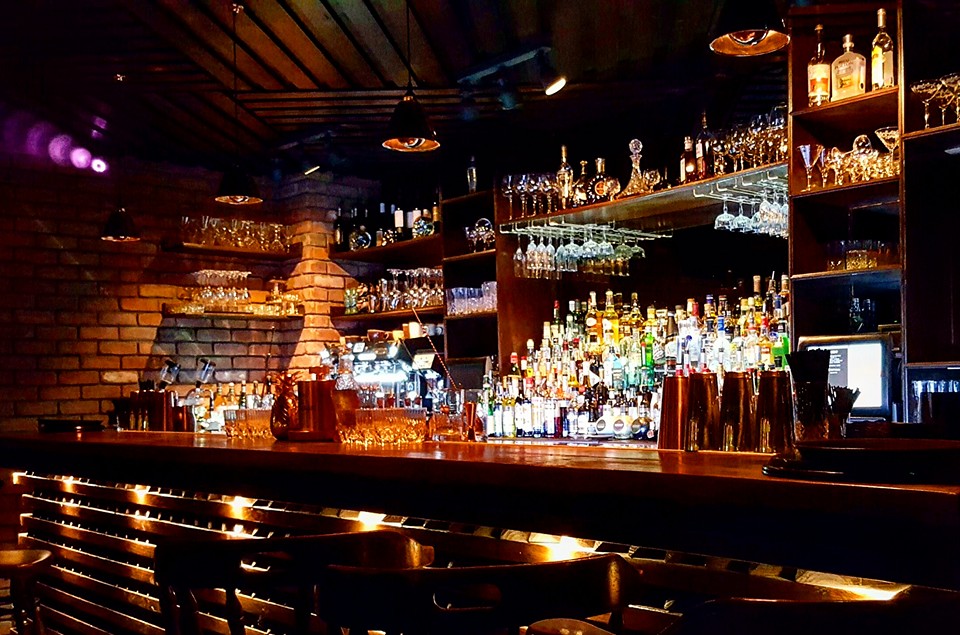 A speakeasy vibe and a darn good time, that's what you'll get at Bourne and Co. It's pretty dark inside so please try not to fall asleep, you've almost made it to the end! Also finding the bar may prove difficult after the one or two (or more…) drinks you've already had as they like to keep things secret at this bar. But once you've found it and entered, you're on to a winner. Delicious cocktails made incredibly well in plush surroundings, you have arrived. At this point you're probably too drunk to care what people think – so go off menu and order a classic Sidecar or (if you're daring) a bright pink Cosmopolitan. It looks girly but it packs a punch, and tastes great too so drink up and let the haters hate.
IB deal: 10% off the bill or Cocktail of the Month for just £5.
Address: 7/8 Suffolk Street Queensway, B1 1LT
18. Island Bar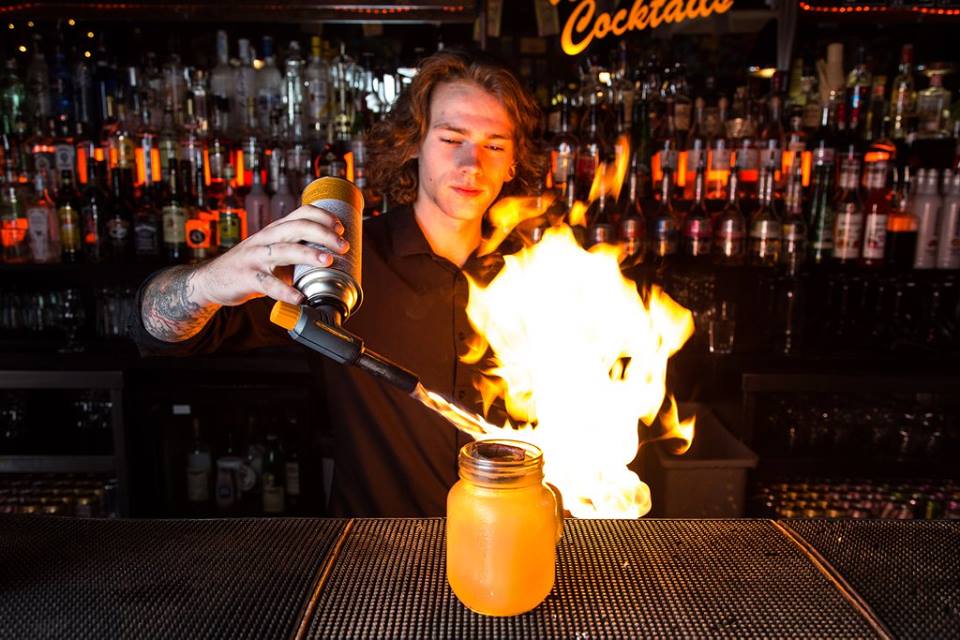 By this stage you're just looking for somewhere funky to throw a few shapes and slurp on your final drink of the night. Better make it a Zombie then, or a Flamin' Moes, as you're in Island Bar and it's all about the Tiki fun in this stalwart of Birmingham's independent bar scene. Sip on your potent concoction and hit the dance-floor with your best moves. You'll probably witness the mad bartenders throwing flames about with reckless abandonment and setting the bar afire, but don't worry – this is just another night in Island Bar.
P.S. There's also an old school Nintendo 64 in the corner with all the best games on it. This place really is the bee's knees.
IB deal: Happy Hour (£4.50 on selected cocktails) Every Hour (Sunday-Thursday).
Address: 14-16 Suffolk Street Queensway, B1 1LT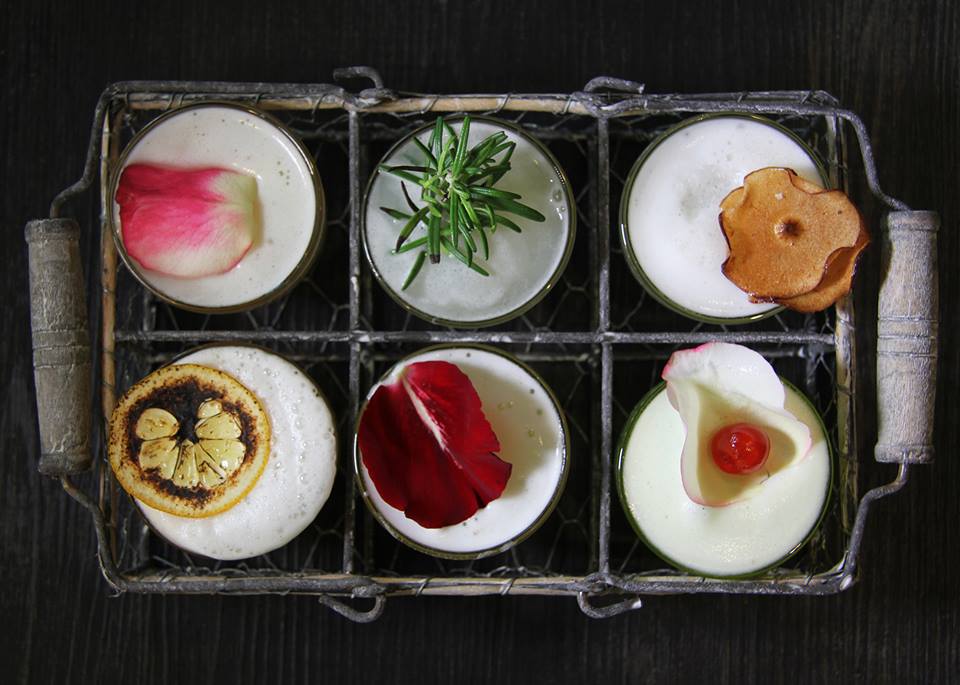 Congratulations, you've made it to the very end of Independent Birmingham's Ultimate City Centre Bar Crawl. You deserve a medal, but we don't have any… Just let the knowledge that you've helped support Birmingham's independent businesses wash over you in an awesome wave and know that you're keeping these brilliant bars and ace pubs alive with your custom. Well played you, well played.
If you can make it to either The Sunflower Lounge or Snobs after all of this, then you're not human. Both, however, are excellent locations to dance to great music and carry on this party.
Having completed this puny challenge, should you wish to take on the JQ then here's your guide to the Ultimate Jewellery Quarter Bar Crawl. Good luck!
Note: this is an 'Ultimate Bar Crawl' and as such it's probably (*definitely*) way too crazy to tackle all of it in one sitting. That would be insane. Do the first part, do the second part or just jump in halfway through and make up your own version. Any which way you do it, drink responsibly folks or we'll have momma IB on our case.
Prost!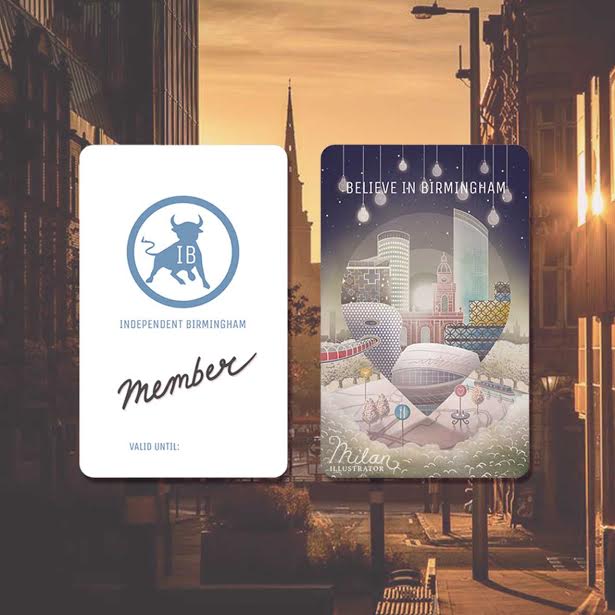 Shop local, celebrate the unique, rediscover your city.
Grab yourself an Independent Birmingham Membership Card and enjoy fantastic year-long discounts and deals at over 95 of the very best independent cafes, bars, restaurants and shops in Birmingham – including: Digbeth Dining Club, The Electric cinema, Simpsons, The Wilderness, Lasan, Birmingham Hippodrome, Adam's, Smultronställe, Bodega Bar Y Cantina, Purnell's Bistro, Buffalo and Rye, mac Birmingham, Fiesta del Asado, 40 St Paul's, Turners at 69, The Plough, Two Cats Kitchen, Birmingham Repertory Theatre, The Lord Clifden, The Jekyll And Hyde, Nosh & Quaff, The Church, Bourne and Co., The Rose Villa Tavern, Cherry Reds, The Prince of Wales, The Loft and many more.
To grab your key to the city for just £15 (or at the amazing price of two for £20), click here.