'I still eat a burger at a counter with ketchup dripping down my face' – Scarlett Johansson.
Burgers, they make us do terrible things. They make us forget diets, with their glorious, towering toppings. They make us abandon all pretences of being a model citizen the moment the merest whiff of one graces our nostrils. Yet, burgers are comfort food at its best – with a great burger working wonders for the soul, able to induce a total sense of well-being from the first bite until the last. And for this, we salute them. Everyone loves a burger, whether meat-filled or meat-free, and as such these glorious creations, housed between two buns, should be celebrated and revered above all else.
Here with the lowdown on where to get your burger fix in Brum is your friendly, neighbourhood Independent Birmingham and our gloriously mouth-watering guide to Birmingham's best burger joints.
Burger crawl anyone?
Digbeth Dining Club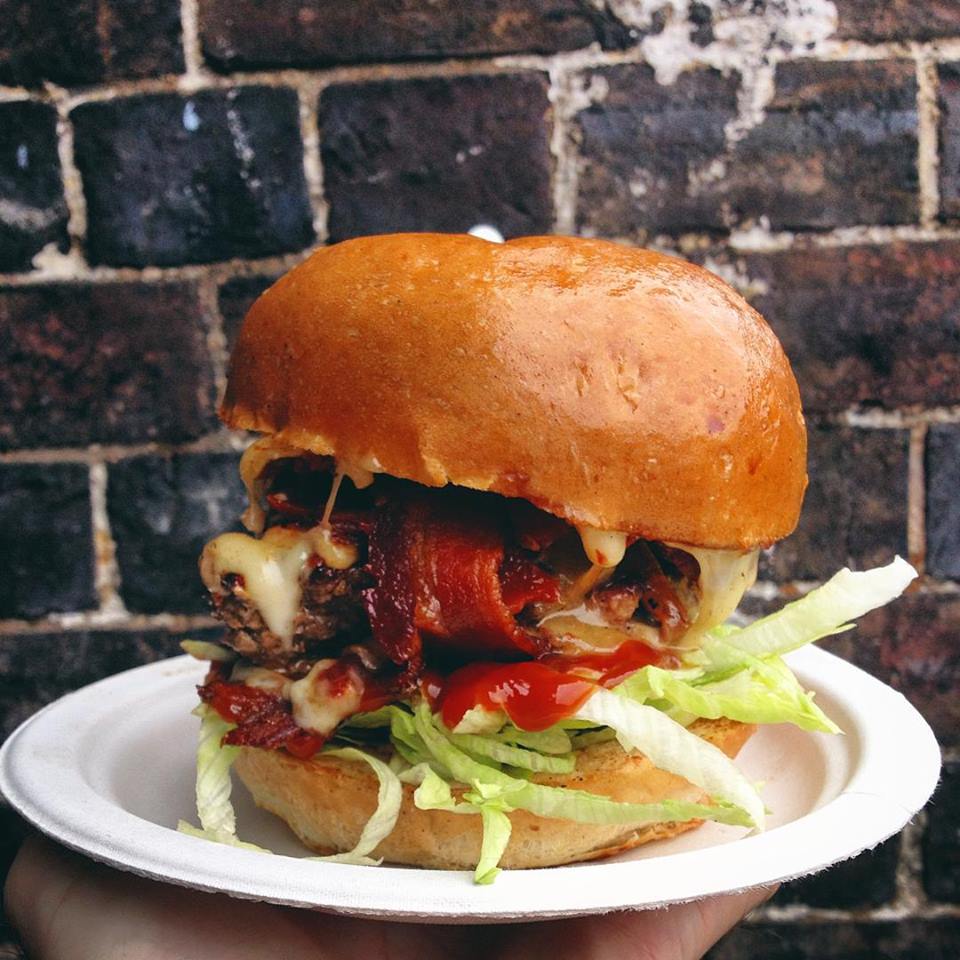 Best known as Britain's greatest street food haven, Digbeth Dining Club is just the place to go to get your essential burger fix. Here there are no tables and cutlery (ok, there are a few optional tables and yes, you can pick up a fork and a napkin or two – if you must) but really it's all about the street food philosophy – you turn up, you have a great time and you satisfy your hunger on incredible food served from a van, gazebo or Mini Cooper. Now, when it comes to burgers, two big names you'll wish to try at Digbeth Dining Club are: The Meat Shack and Flying Cows. Sink your teeth into their meaty offerings and you'll be in foodie heaven. FACT!
The Church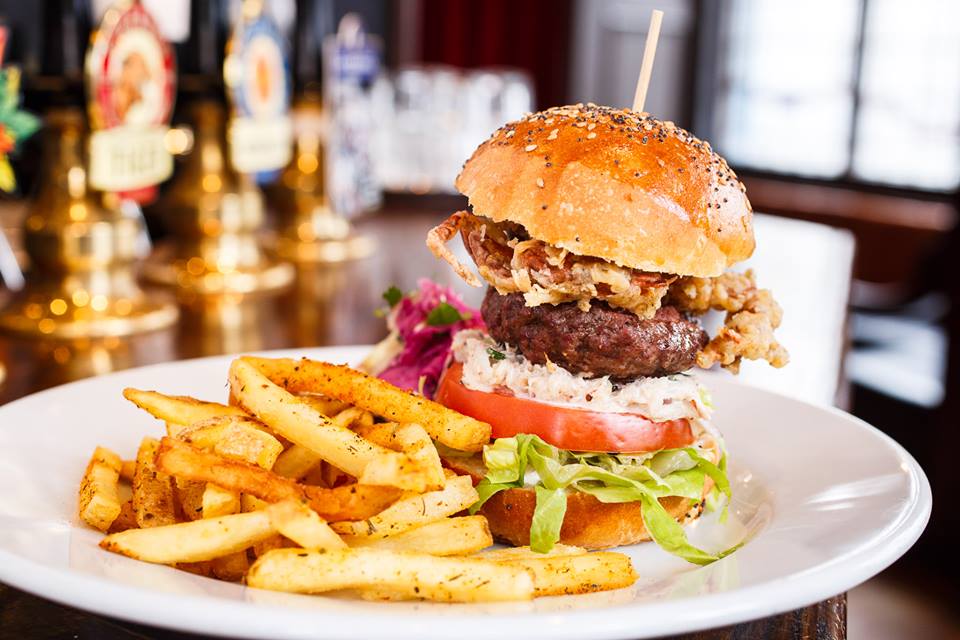 Birmingham's favourite temple to soul food, The Church, has always impressed us (alongside the rest of Brum's ravenous food enthusiasts) with their mouth-watering ribs and the pub's intimate and laid-back atmosphere. Here to tell you that their burgers are just as incredible as their ribs (if not better, although those ribs are pretty hard to beat!) is Independent Birmingham. We're ballsy and not afraid of controversy. With a burger offering that'll leave you swooning, we recommend their surf and turf burger. It's big and the only controversy here is not abandoning this article right now to go grab yourself one.
Literally, we mean now!
The Warehouse Cafe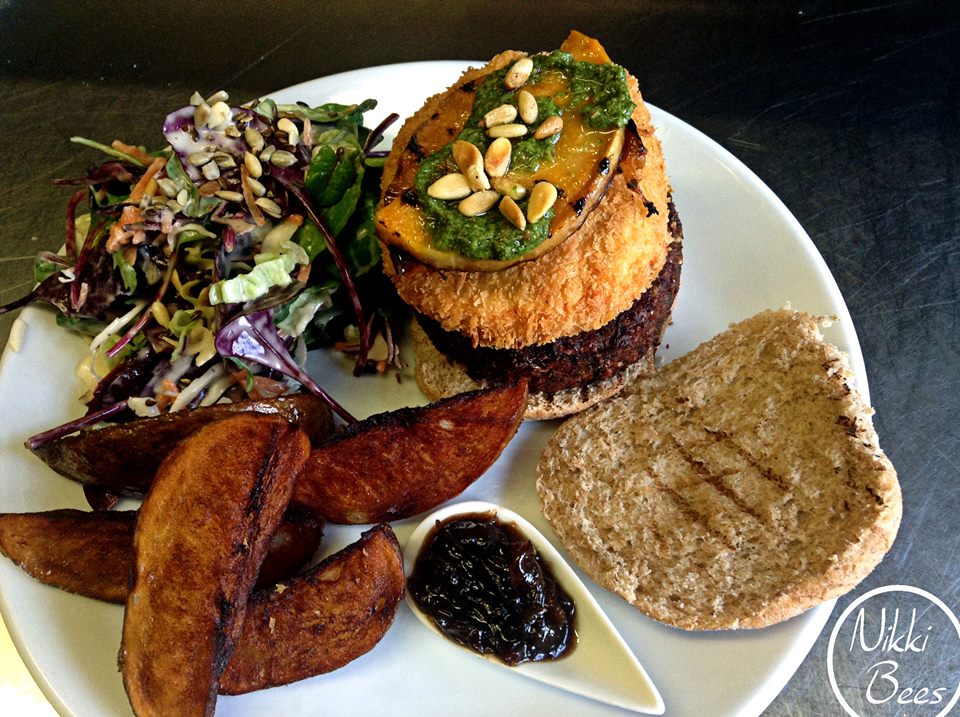 Renowned across town as one of the foremost vegetarian eateries, The Warehouse Cafe has been serving up amazing vegetarian cuisine to the masses (or those in the know, they are a hidden gem after all) for a while now. Having recently changed their menu, you'll now only find burgers on their specials boards – and folks, it's safe to say these burgers certainly are special. Composed of beans, and green stuff that grows out of the ground, these patties taste just as good as those made of meat (told you we're not afraid of being controversial) and even the carnivores can't deny that.
Andersons Bar And Grill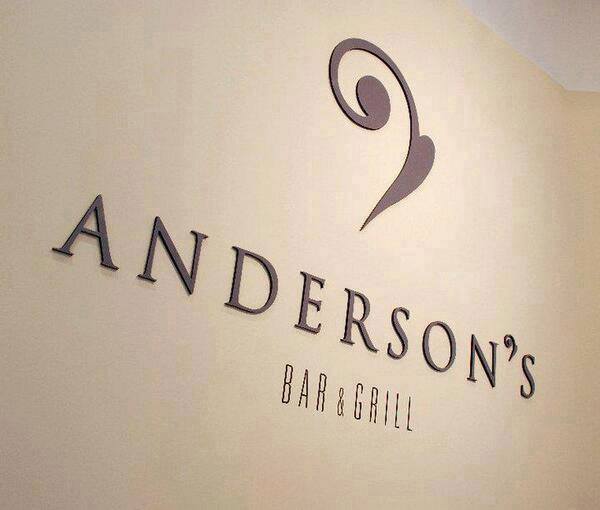 Located in the beautiful St. Paul's Square, Andersons Bar and Grill is probably one of the best places in Birmingham (city centre, mind you) for steak. However, this isn't an article about steak (although now we're craving steak…) – we're here to talk burgers. Available at lunchtime only, sink your teeth into a colossal burger and then maybe just take the afternoon off to slowly digest your epic lunch like an anaconda who's just eaten a goat whole. That or slowly lapse into a food-induced coma, your choice.
The Plough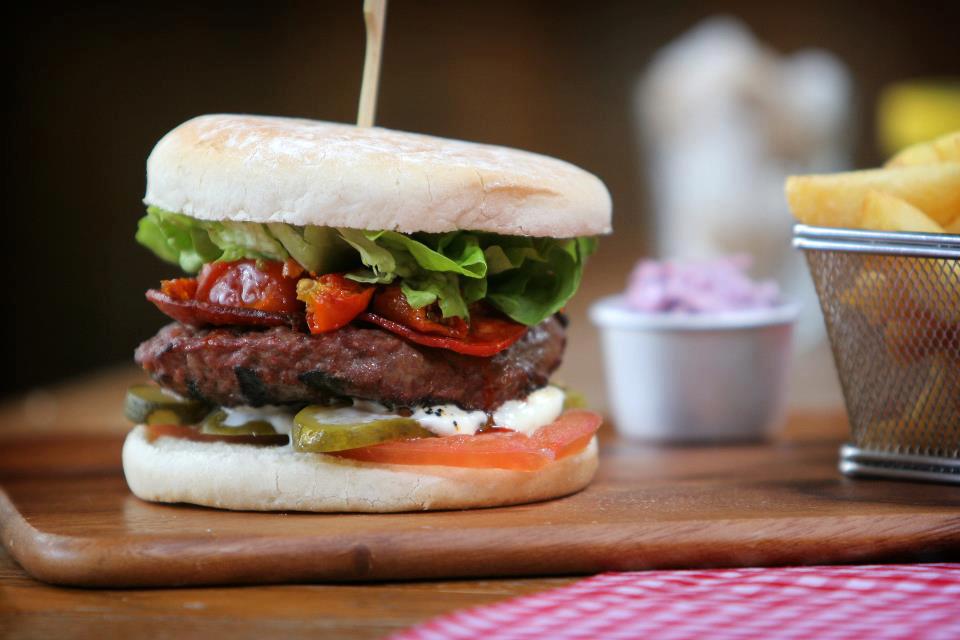 Now if you live in and around Harborne, or just anywhere in Birmingham, you probably will have heard of The Plough – with their Sunday roasts legendary across the city. In terms of burgers, they offer hungry burger fanatics a number to choose from (including a 'low carb' burger which is served without a bun on a bed of salad, and if you order this we will instantly disown you). The other burgers come with buns though, and come topped in anything from mushrooms and courgettes to chorizo and smoked mozzarella (yum) and are slathered in The Plough's very own burger sauce. We like.
Note: every Tuesday it's 2-for-1 burgers at The Plough. It'd be rude not to take advantage of this. Maybe turn up on your own, maybe eat both burgers yourself… We like your moves.
The Bureau Bar & Kitchen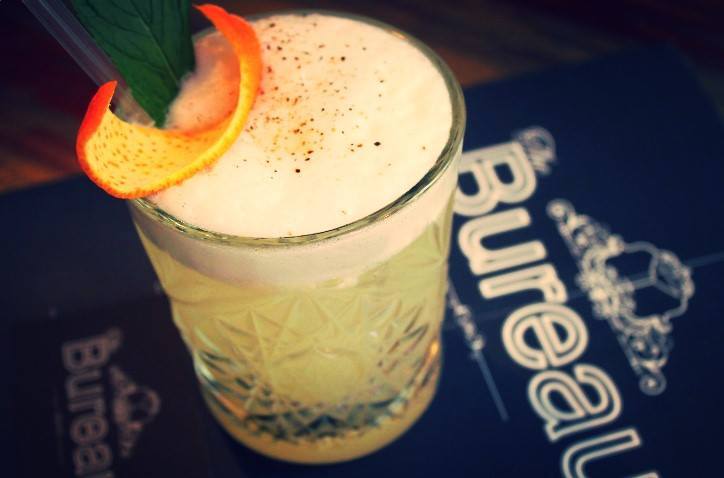 Renowned for their hot dogs and cocktails, The Bureau Bar & Kitchen also serves up one hell of a burger. Now, looking at their menu you may want to get side-tracked with all this talk of meat boards, steak salads and sea bass – but this article is about burgers, and burgers you shall eat! Their meaty offering comes classic, with your choice of additional toppings. Either way, grab yourself one (as well as one of their delicious cocktails) and you have the makings of a wonderful meal.
General life hint: when summer comes, or even just any sunshine, head to The Bureau's rooftop gin terrace. Gin cocktails and sunshine, it's the perfect way to spend any day!
The Victoria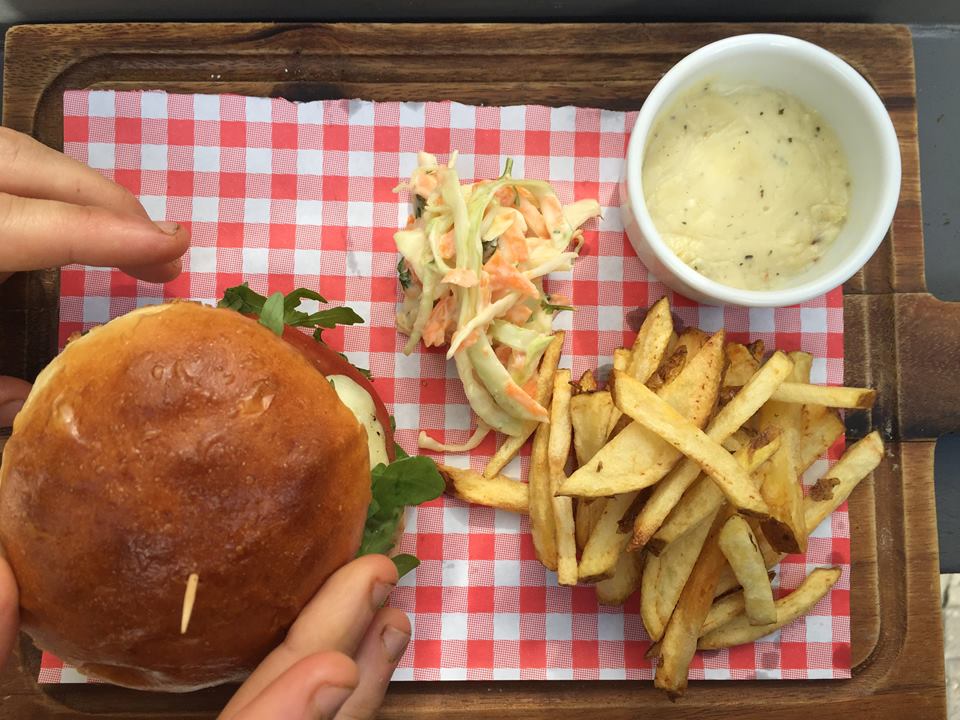 Now folks, whilst The Victoria certainly serves up some darn tasty burgers in their funky pub, we'd like to draw your attention to their meat-free creations in a drastic move away from our usual carnivore-heavy talk. It's a ballsy move, but we're sticking by it. When veggie burgers are done right, they are something special. With two to choose from, wrap your lips around a triple-stacked falafel burger or sink your teeth into a courgette, beetroot, carrot and oat patty with sliced avocado and hummus (our choice). Meat-free doesn't mean taste free people.
Go pig out!
Original Patty Men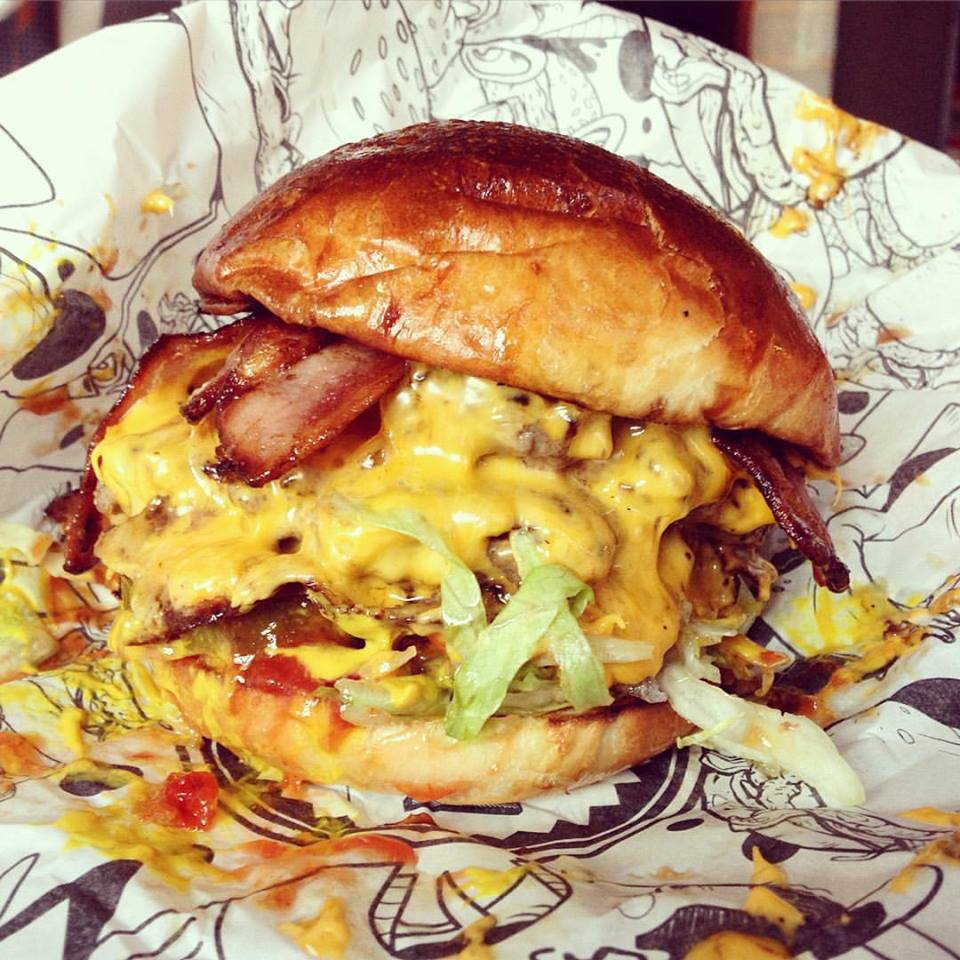 Formerly street food kings, Original Patty Men now have their very own restaurant where they flip burgers and slather their fries all manner of goodness. Located within a railway arch in Digbeth, sink your teeth into their Brum-famous burgers and all will be right with the world. Whilst fairly small in stature (you may need to double patty to satisfy that insatiable hunger of yours – or maybe that's just us…) these burgers are simply heavenly and one bite will have you making strange noises that would normally result in other diners looking over at you with quizzical expressions, if they weren't themselves making the very same noises. Although it's a shame they're not cooked pink anymore (damn those bigwigs and their health standards!), we do heartily recommend a visit to these burger kings.
The Lord Clifden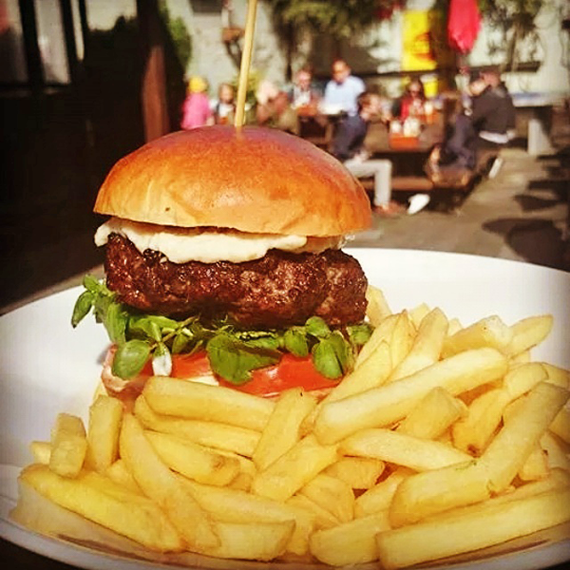 Home to one of the greatest beer gardens in our dear Birmingham (another hard-hitting fact from the team – all one of him – at Independent Birmingham), The Lord Clifden is also where you can find some of the best burgers in the city. When it's sunny you can take your chosen companion (we're talking about your burger, of course) outside and bask in the rays as you chow down on your meat-filled bun of destiny – maybe even whilst quaffing a beer or a cider, we don't make the rules. Should it be rainy, simply sit inside and let these burgers offer you warmth and comfort. It's a win-win situation folks.
Meating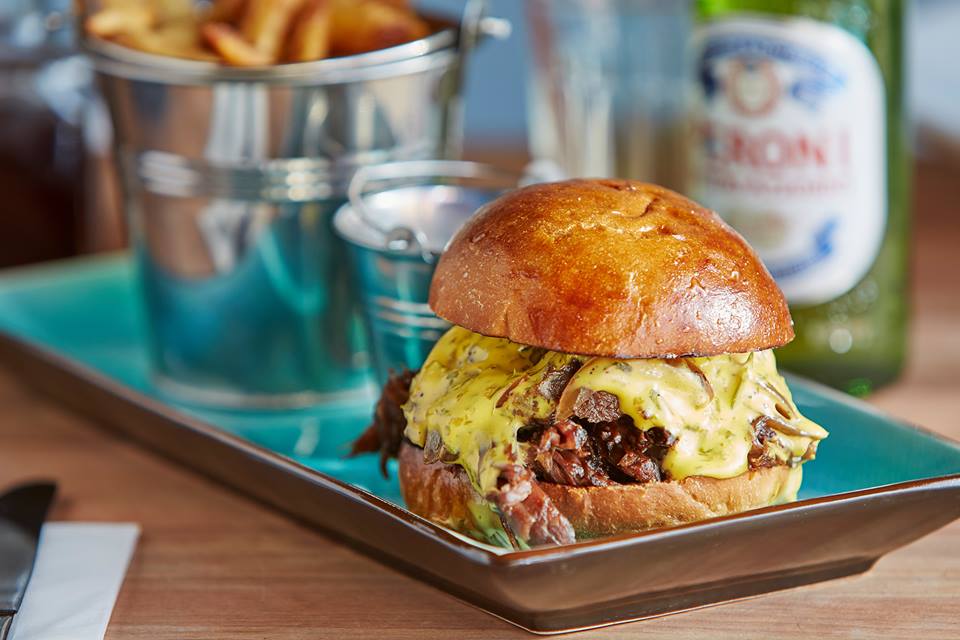 Purveyors of meat, Meating, are all about grilling up your favourite meats over open flame. And of course, they serve up some pretty fantastic burgers. You can double the meat for just another £3 (we always recommend this, even if it ends up being too much, but that's just because we're greedy), for that ever-essential additional foodie feasting. From caramelised onion and blue cheese to jalapeño cheese sauce, maple bacon and nachos, the creative fillings are only out-done by the great taste – in fact, we heartily recommend you stop reading this article right now and go grab yourself one of these burgers. We're serious folks, go!
Foodie Hint: their ice cream is pretty ace too. Dessert anyone?
The Dark Horse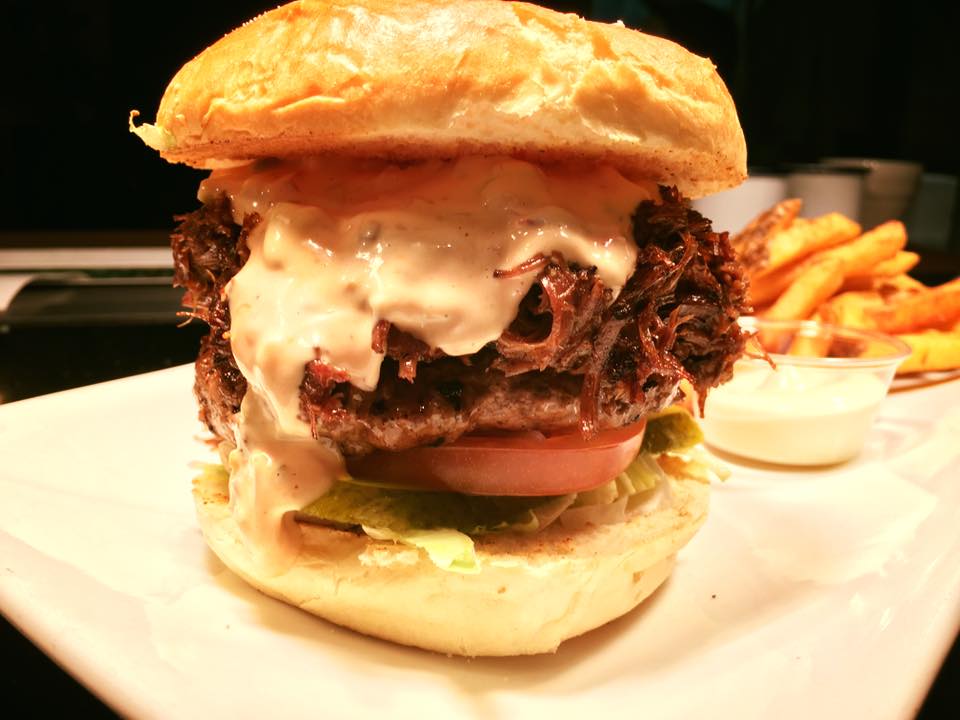 You're in Moseley and you're looking for burgers. We know just the place. Head over to The Dark Horse and you'll find yourself confronted by glorious burgers and, you guessed it, beer – because your burger looks kind of lonely without a beer next to it. We'd like to draw your attention to their Big Kahuna Burger – it's big, it's ballsy, and just thinking about it will make your mouth water and your belly rumble. FACT! Topped with grilled pineapple, candied bacon (the best kind of bacon), scotch bonnet mayo and gherkins – this burger is the stuff dreams are made of, and we highly recommend you go sink your teeth into it (right now). And no, that's not it pictured above – told you we weren't afraid of controversy.
Purnell's Bistro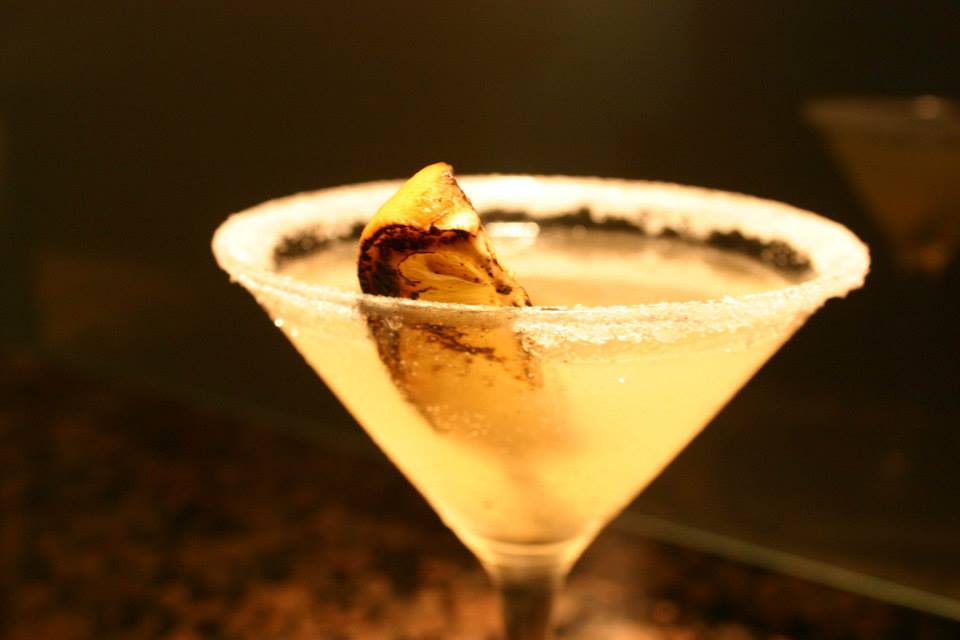 If you live and work in Birmingham, or even if you just have a passing interest in food, no doubt you will have heard of Glynn Purnell. You only have to turn on the television on a Sunday morning and he's there on the TV or open a local newspaper and his name is emblazoned in bold. But this is because the man forged himself a future and paved the way for fine dining in Birmingham – and for this, we salute him. Purnell's Bistro is the baby brother to the Michelin starred Purnell's, yet their food offering is still vibrant and delicious. Head in one day, order yourself their half pork – half beef burger served with Emmental cheese and you'll start to see why Purnell is such a big name in Birmingham's exciting and burgeoning food scene. You might want to thrill your taste buds on one of their cocktails too, they're rather splendid. Just saying.
The Rose Villa Tavern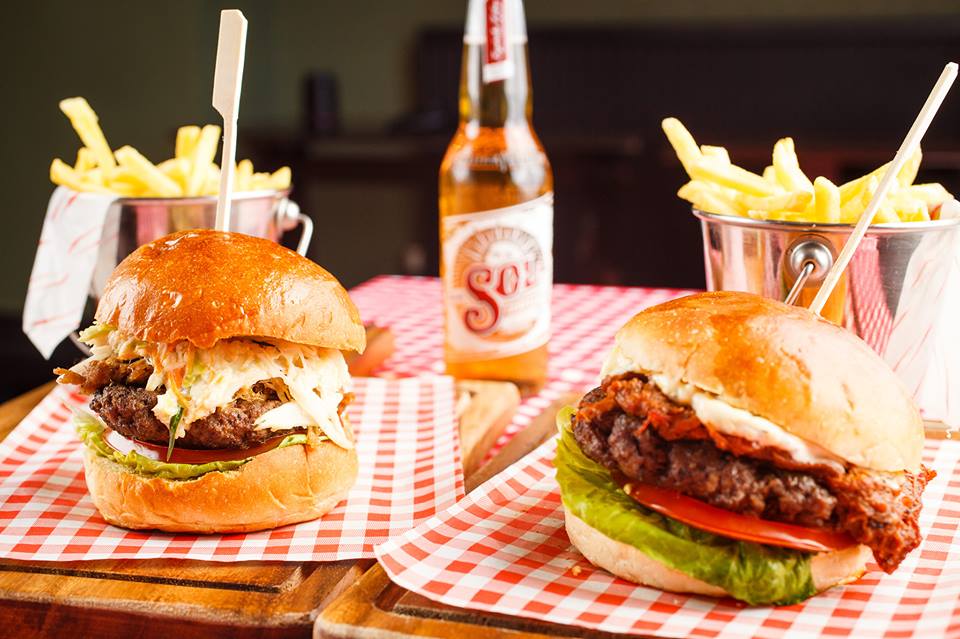 Laid-back vibes in Birmingham's Jewellery Quarter come courtesy of The Rose Villa Tavern and their quirky pub, the perfect setting for an after-work pig out or a weekend feeding frenzy with your foodie friends. With booth seating to promote social behaviour, and a burger menu likely to induce a belly growl full of anticipation, grab yourself a friend (maybe even two) and then make your way to this glorious pub for your fill of burgers and good times. There's even a phone-box occupying the corner of pub, but don't let this distract you from your magnificent feast too much.
We'll see you there!
Bar Opus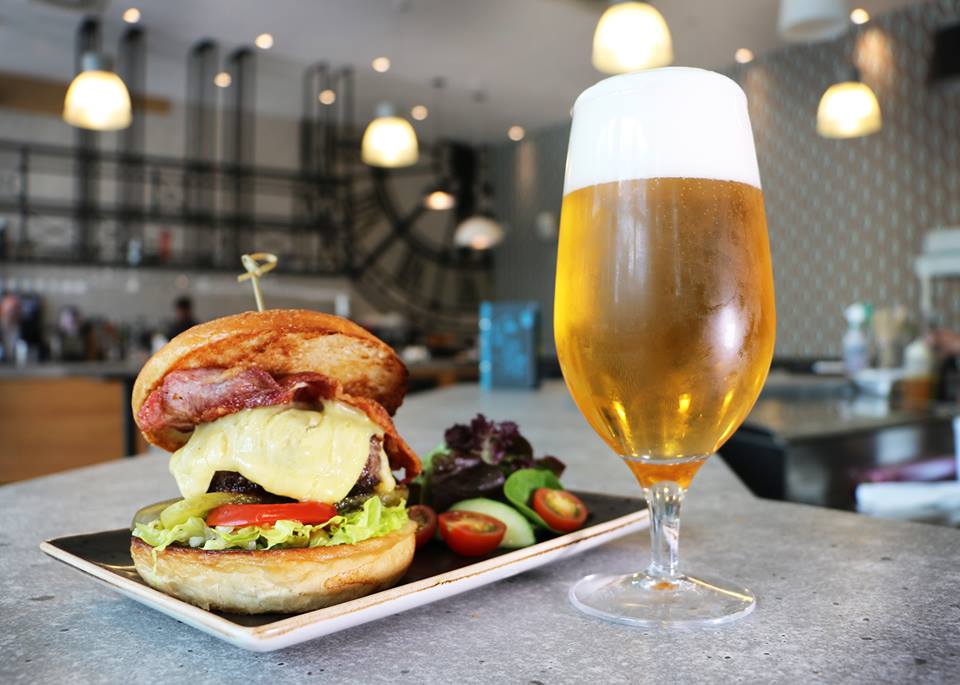 Part of the Opus family, Bar Opus focuses on bringing Birmingham sustainable and ethically-sourced produce from around the country. And we must say, the high-quality ingredients used in their dishes really does tell – ensuring that from first bite to last, your meal is both delicious as well as ethical. Their burger is no different. Composed of a 100% beef patty made from some cow in Devonshire, topped with Blythburgh Farm smoked bacon and Montgomery cheddar – sink your teeth into this burger and all will be right in the world.
Foodie hint: they also serve up a sausage and gravy sandwich to die for. If you don't get a burger, you should probably (definitely) get that.
Nosh And Quaff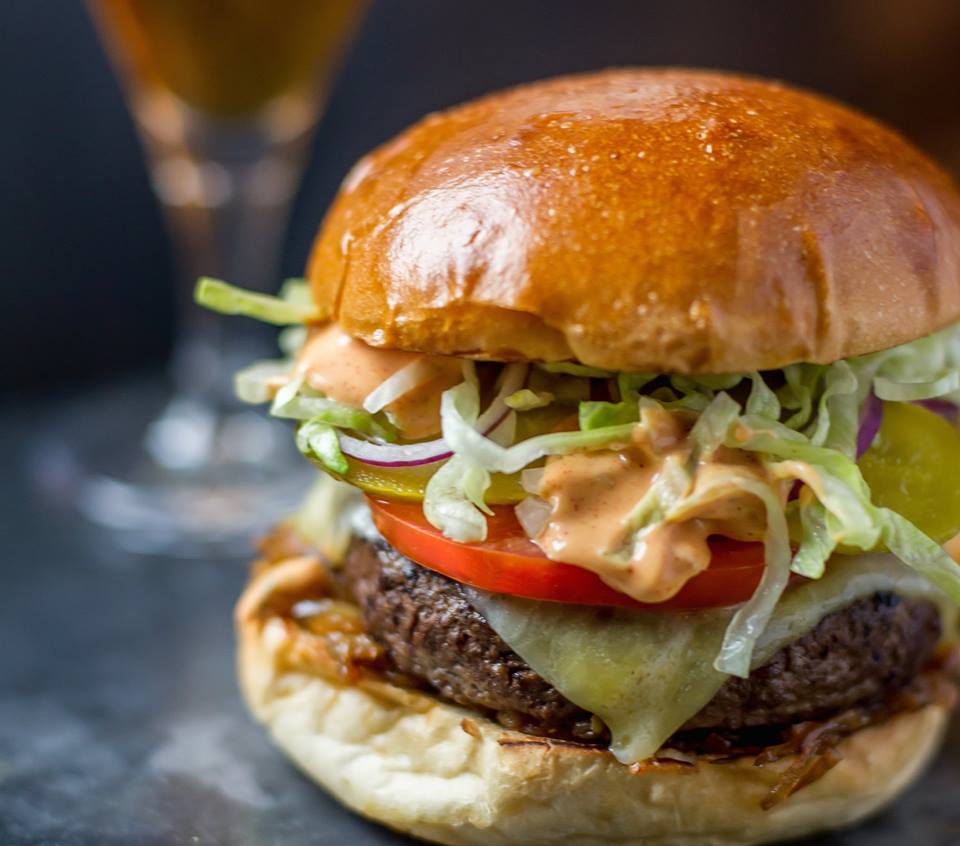 Renowned for their lobster and colossal beef ribs (they're seriously good folks!), Nosh and Quaff also rather quietly serve up one of the tastiest burgers you'll probably ever have the pleasure of eating in your life. Dubbed the 'Cheeky Burger' due to the inclusion of their melt-in-the-mouth ox cheek (not for the amount of sass it gives you, the sassy thing) this burger is simply delightful and an excellent addition to Birmingham's already booming burger scene. We highly recommend you visit, and a beer will be just the thing to accompany your epic meaty feast. From first bite until the last, this burger certainly sets the bar high.
Purecraft Bar And Kitchen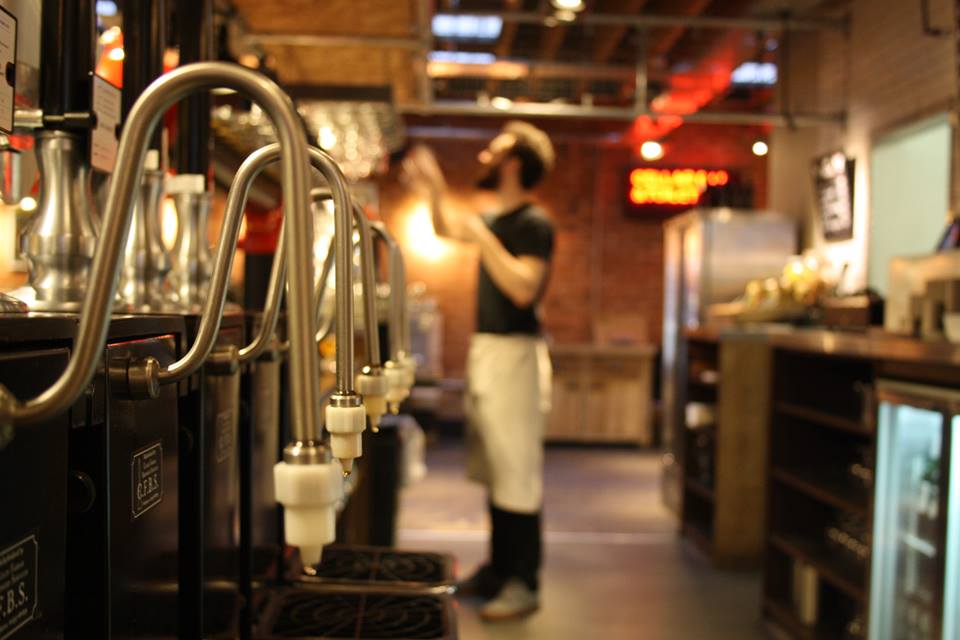 Home to over 100 different craft beers, Purecraft Bar and Kitchen are connoisseurs of beer food and what better match for your lovely pint of craft beer than a burger, right? Whilst there's only one burger on the actual menu, we beg (nay, we beseech) you avid foodies to check their specials board upon arrival as every single day there's a magnificent offering of food and beer for cheap bucks and you' be crazy not to go for it. Back to the burger: the burger on the menu comes slathered in beer ketchup and served with fries in a milk bun – they even suggest a matching beer for you. How kind.
Your next move: head to Purecraft Bar and Kitchen for food, and for glory!
Gas Street Social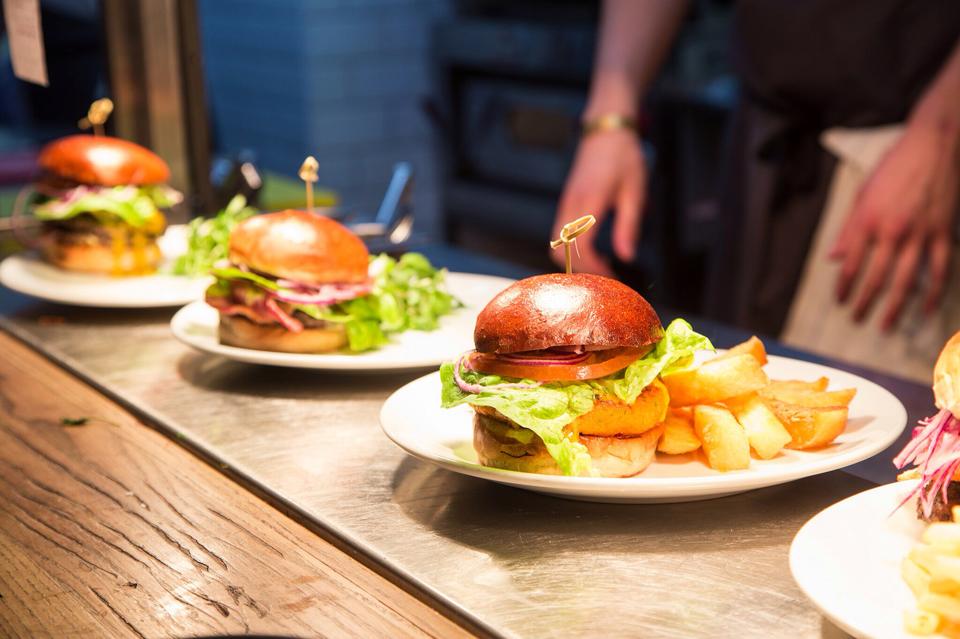 Canal-side eating with a view. What could be better? Oh wait, we've just added burgers into the mix. That's how we made it better. Boom, plot twist!
Located in The Mailbox, Gas Street Social offers foodies great grub with a great view. Almost in a 'build your own burger' kind of way, Gas Street Social allows burger fans to choose from three patties (beef, chicken, veggie) before then choosing the burger sauce of your desire – with extra toppings (definitely encouraged) ranging from fried eggs and black pudding to streaky bacon and blue cheese. Your move Birmingham.
The Red Lion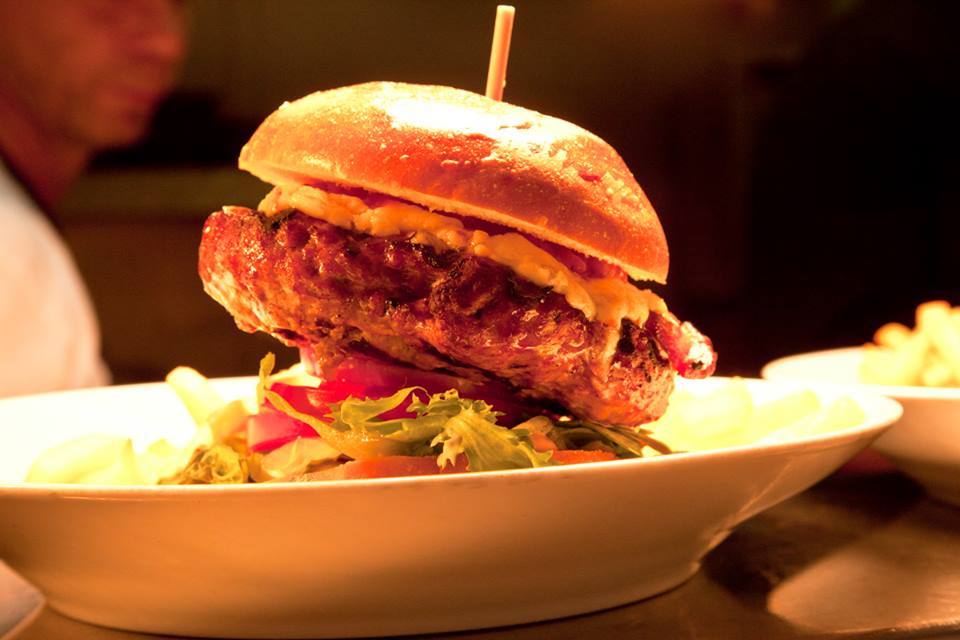 One of Birmingham's finest hidden gems (FACT!), The Red Lion is nestled deep within our beloved Jewellery Quarter and whilst it's a little bit of a walk for some of you, the burgers within are definitely, definitely worth it. Whether your dreams are of a burger topped with chilli, or you're more of a sautéed onions and melted cheese kind of burger enthusiast – The Red Lion ensures that only the highest quality burgers are making their way to your hands, and their beer garden is the perfect place in which to satisfy your deepest and darkest foodie cravings.
The New Inn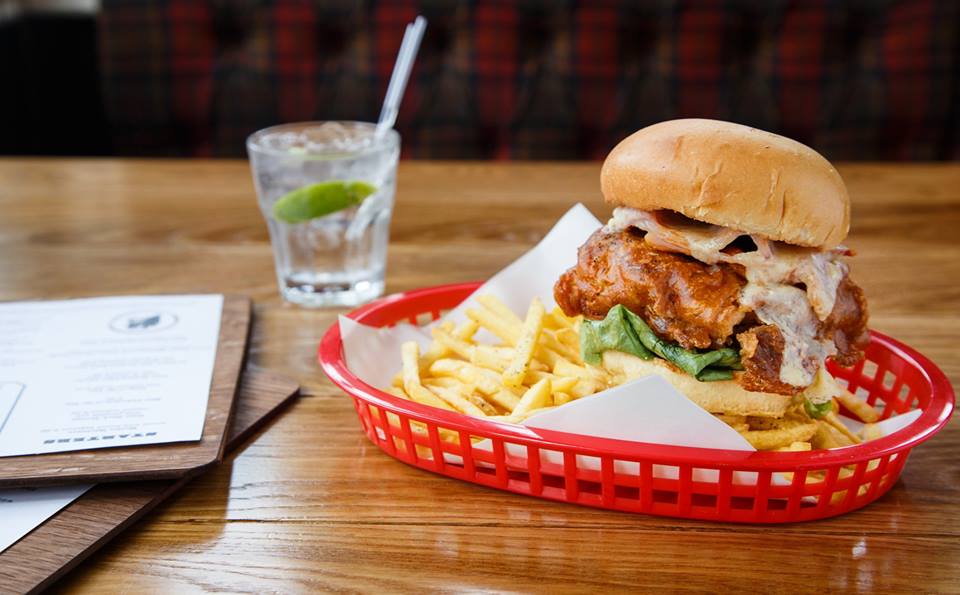 Comfortably nestled in Harborne, The New Inn has one of the largest beer gardens known to mankind (ok, that might be taking it a bit far – but it's certainly big, and when the sun comes out it's a glorious place to drink and relax). And what better way to wait for the sunshine (you may be waiting a while, this is Britain after all) than with a burger in hand and a smile on your face? Your burger comes with triple-cooked chips – which are, in our opinion, the best kind of chips – and the cosy decor of this fabulous pub is just the place for you to relax, stuff your face with reckless abandonment and have not a single regret. Not a single one.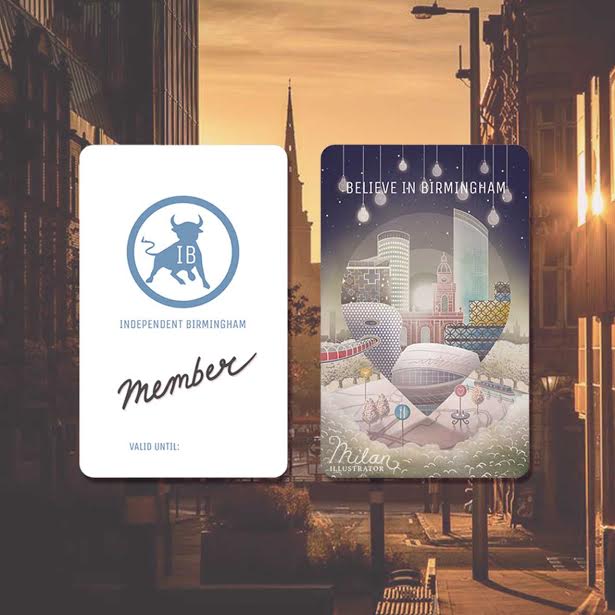 Grab yourself an Independent Birmingham Membership Card and enjoy fantastic year-long discounts and deals at over 95 of the very best independent cafes, bars, restaurants and shops in Birmingham – including: Digbeth Dining Club, The Electric cinema, Simpsons, The Wilderness, Lasan, Birmingham Hippodrome, Adam's, Smultronställe, Bodega Bar Y Cantina, Purnell's Bistro, Buffalo and Rye, mac Birmingham, Fiesta del Asado, 40 St Paul's, Turners at 69, The Plough, Two Cats Kitchen, Birmingham Repertory Theatre, The Lord Clifden, The Jekyll And Hyde, Nosh & Quaff, The Church, Bourne and Co., The Rose Villa Tavern, Cherry Reds, The Prince of Wales, The Loft and many more.
To grab your key to the city for just £15 (or at the amazing price of two for £20), click here.